Tips for keeping your eyes protected during sports and athletics.
Now that we have officially entered the month of March, it is nearly time to put away our winter weather gear for good and begin breaking out everything we need to tackle the outdoors once again. Whether you are a student who is involved with spring school sports, a parent who likes to keep active whenever you get the chance, or just someone who likes to soak up the outdoors with a bike ride, a swim or a run, spring is the perfect season to get some pep back in your step and get outdoors.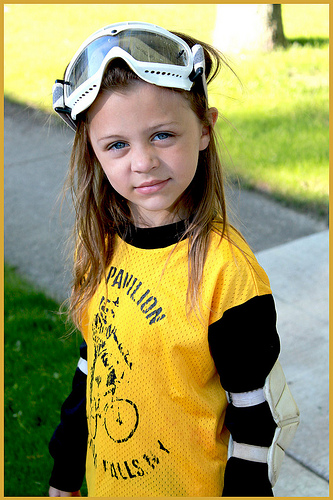 However, when you are getting together all of your outdoor safety equipment to protect you from the elements―a jacket, proper sports shoes, wrist and shin guards, etc.―there is one area of your body that you should make sure that you are also protecting during your favorite sports: eye protection.
When most people think of eye protection for sports, they picture goggles for swimmers or safety glasses for high impact sports. However, there are different types of safety glasses and eye protection for every sport that you could think of. And, just as importantly, it is imperative to protect yourself and your eyesight in each of these outdoor activities.
If you are someone who is active with sports or physical sports during the spring season and all year round, here are some important sports safety tips that will keep your eyes protected no matter what activity you choose to participate in:
Use The Proper Sport-Specific Gear
There are many different types of eye protection that you can choose from, depending on the sports that you play. For instance, for racquet sports or basketball, you should wear goggles that have lensed polycarbonate protectors for the highest level of protection against potential impact.
For baseball players, batting helmets with polycarbonate face shields are great for protecting yourself behind the plate. Similarly, the U.S. Amateur Hockey Association has suggested helmets and face shields for the best protection during this high-impact sport.
Choose Glasses With The Best Fit
While wearing any kind of eye guard may feel strange at first, especially if you have never worn one before, bear with it. After all, it is going to be a lot more comfortable than enduring a serious eye injury. However, in order to choose protective glasses with the best comfort, choose eye guards that fit securely and comfortably, and also allow the use of a helmet if necessary.
Also, all sports eye guards should be padded or cushioned along the brow and bridge of the nose. Padding will prevent the eye guards from cutting your skin.
Do you use proper eye protection when you participate in high-impact outdoor sports? Would you consider wearing glasses during every sport if it meant protecting yourself against potentially dangerous eye injuries? Be sure to share your thoughts and sports stories with us in the comments below!
Image: Source