MitchellSquash and The Chatham Club announce the this year's tournament.
At OCLI, one of the reasons why we feel maintaining healthy eye care and taking the right steps to achieve clear vision is so important is because it opens the door for many other opportunities in your life. Whether you are focusing your clear vision on academics or work-related projects, or you are looking to enjoy the world of physical sports and activities without the pain of prescription lenses, clear vision can often be the main difference between daily comfort and irritation.
As an avid sports enthusiast himself, Dr. Cary M. Silverman, M.D. knows firsthand just how big of a difference clear vision can make for an athlete when they are out on the field or court, fighting for a win, and he has been sharing his knowledge with each of the athletes he encounters in his own sports activities.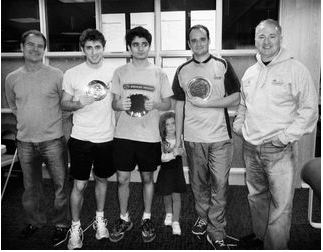 However, when Dr. Silverman is not busy out on the courts spreading the word of clear vision or sweating through a difficult bike ride or squash match, he along with the rest of the OCLI are sponsoring some of the sports and activities that they feel most passionate about. One sporting event that they are proud to be sponsoring for over 14 years is the annual OCLI Squash Tournament hosted by MitchellSquash and The Chatham Club in Chatham, NJ.
This year, MitchellSquash and The Chatham Club have announced that the 2012 OCLI tournament will  be held December 1st and 2nd at The Chatham Club and, as in previous years, will feature multiple divisions.
The 2012 divisions being featured this year include 5.5 (Open/A), 4.5 (B), 3.5 (C), 3.0 (C/D), Women's 3.5 (C/D), 50+ and 60+.
The OCLI Squash Tournament is the first major tournament in the Chatham area this year and will be a great way to kick-off the season for any squash enthusiast. For those participating, the initial entry deadline is November 29th and the tournament is US Squash-sanctioned and all matches count toward a player's rating. Prizes will be awarded to winners, finalists and consolation winners in each division.
However, even if you are not participating in the tournament yourself, there will be plenty of sports entertainment and food offered by Serenade for those in attendance.
Over the past 20 years, MitchellSquash has helped many athletes―young and old―become avid squash enthusiasts by teaching and encouraging all aspects of the game. OCLI is proud to be teaming up with them again to sponsor the 2012 Squash Tournament at The Chatham Club.
For more information about the tournament, including details about the entry form and on-line registration, visit www.MitchellSquash.com and click on the OCLI tournament page. We look forward to seeing many of you out on the squash court for this year's annual tournament.