Could focusing on the target be as important as our parents always told us?
It is no secret that, for most of us, our vision is key for observing and acting in the outside world. It is what helps us safely navigate our cars down twisty, turning roads or take in our beautiful surroundings during the winter season. Our eyes also allow us to look out at the problems in front of us and best devise a way to solve them.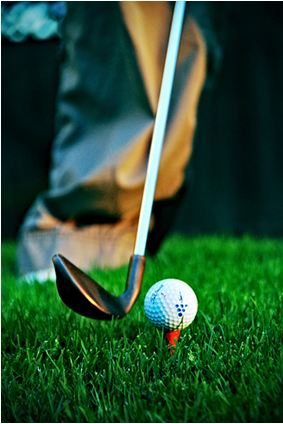 It is for this very reason why, as children, we were often told by our parents to "keep your eye on the prize" in order to achieve the thing that you were after. However, a recent study on sport performance and physical actions reveals that our parents may have been more right than they even knew.
When it comes to sports, such as golf, basketball, hockey, football, etc., coaches and athletes always give the same advice: Keep your eye on the ball. However, many of these people often do not follow this same advice. Basketball players often look at the hoop as they line up a shot and hockey players often glance up from the puck to look for an open teammate as they connect. However, which is better when it comes to performance? Looking at the ball or looking at your target?
Several researchers in England recently took to the golf course to try and answer this question once and for all. Does looking at the ball affect performance? Does where we look during a sport affect how we think and feel while in action? Their findings might surprise you.
In order to test performance in golf players, scientists had 20 golfers focus on their putting technique while 20 other golfers were instead told to focus on "Quiet Eye" training. This type of gaze-focusing technique helps people from flicking their eye focus around and instead focus on one particular spot. In this case, the golf ball. Looking at the ball long enough helps golfers to process aiming information.
Focusing this precisely on the ball helps players to block out mental distractions and allows the brain to concentrate on aiming and direct the body in the right motions in order to get the ball where you want it.
In fact, the "Quiet Eye" training worked so well that those golfers who had worked on their gaze, rather than their technique, after hours of golfing found that their shot was much more accurate. Those who focused their gaze also experienced lower heart rates and less muscle twitchiness, indicating less performance anxiety.
Unfortunately, focusing hard on the ball alone is not enough to substitute for poor technique. However, what one doctor on the study, Dr. Wilson, found most interesting was that Quiet Eye-training allowed recreational and novice athletes with elementary skills to progress in the sport rapidly.
So, next time you are out on the golf course, playing a pick-up soccer game or just goofing around with the basketball in your drive way, remember what your parents and coaches always taught you―"Keep your eye on the ball." You may find that it is much more helpful advice than you remember it.
Not only is it important to keep your eye on the ball, its also important to see the ball clearly.  Just ask 2-time World Long Drive Champion, Art Sellinger.  He traveled to New Jersey last year to have a procedure called Refractive Lens Exchange (RLE).  He is now able to play golf without his bifocals, and is still driving the ball well over 300 yards!
Image: Source | Research: Source