Vision products that should be thrown out and re-stocked this month.
The start of a new year means many different things―back to school for those in grade school or college, a new year of business at your job, and a fresh start for many other aspects of your life. However, as you purchase your brand new 2012 yearly calendar and begin making your new year's resolutions for this upcoming year, do not neglect the health of your vision.
Just as the new year provides us with a fresh start for our health and fitness goals, it also provides the perfect opportunity to toss out all of the old and bring in the new. This includes vision products that should be replaced on an annual, or even monthly basis.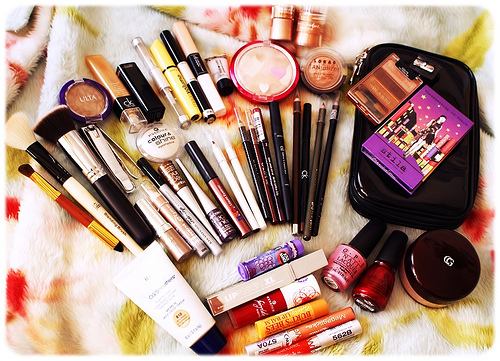 Replacing your makeup or your contacts on a regular basis is not only healthy for your eyes and your vision, but it can also help to prevent the onset of serious eye conditions such as pink eye, dry eyes or the spread of dangerous bacteria.
In order to help you keep your eyes fresh and healthy in 2012, we have put together a list of four areas in your life that should be updated and restocked in order to help maintain the health and longevity of your vision. By taking the proper preventative steps to re-stock your eye care and accessories, you can ensure that your vision will stay strong for many new years to come.
1. Makeup
When it comes to makeup, women have a tendency to hold on to certain products for years and years at a time. And at $12-15 per product, can you blame them? However, as cost efficient as it may seem to get the most out of all of your makeup, many of these beauty products are a breeding ground for bacteria that you then put on your eyes day after day.
This month, take an honest assessment of each item in your makeup bag, then follow this quick guide on the shelf life of your eye makeup to determine whether it is time to say goodbye:
Mascara: Replace every three to six months
Eye shadow: Powdered shadow can last up to three years; cream shadow only lasts for a year.
Eyeliner: Replace at least every two years and sharpen regularly to cut down on bacterial growth.
2. Contact Supplies
If you are a daily contact wearer, it is important that you keep your contact case clean and rinse it out with proper solution after ever contact insertion. You should also leave your case open to air dry to prevent bacteria from growing.   It can also be a good idea to periodically put your contact lens case through a cleaning in your dishwasher!
Also, be sure that you are replacing your contacts according to the replacement schedule that came with your prescription. Overuse of contact lenses can lead to a number of different eye infections, including corneal ulcers.
3. Cleaning Wipes
It is very easy for our glasses and sunglasses to get dirty when you are constantly taking them off and on, and storing them all over your house for when you need them. However, it is important that you clean your lenses and frames frequently in order to make sure no outside bacteria ends up in your eyes. You should also replace and wash your cleaning cloth on an annual basis to make sure that you are getting your lenses as clean as possible.
Also, be sure to make an appointment for your yearly eye examination in 2012 so that you can ensure that you are starting the year off with the best vision possible. Contact OCLI today to schedule your free vision consultation and welcome 2012 with strong eyes and healthy vision.
Image: Source