How to clean and apply makeup in order to prevent vision problems.
For millions of women around the world, wearing makeup is a natural part of their day-to-day routine―a quick dab of foundation after a long night out, a fresh coat of lipstick before heading out on the town, and a simple, yet defining application of mascara to really make their eyes stand out.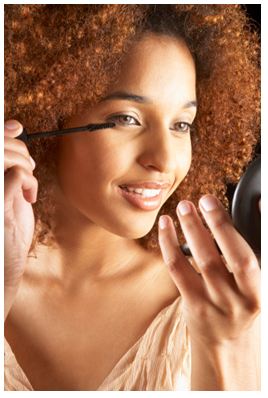 While many of these women consider makeup to be one of their "must have" tools for personal care and beauty, not all of them realize that these cosmetics require just as much maintenance and upkeep as they do.
The job of makeup is to make a women look radiant, fresh and glowing. However, if your makeup is causing infections, allergic reactions and injury of the eye or eyelid, it's doing exactly the opposite of what it's supposed to. Eye problems caused by makeup can range anywhere from a minor annoyance or itch, to tearing and watering of the eyes, and even to eventual vision loss or blindness.
Luckily, the care and upkeep of eye makeup is very simple as long as you follow proper steps when applying and cleaning your cosmetics.
Always Keep Your Makeup Clean
When you're rushing to get ready in the morning, it's easy to forget to tightly close the cap on your foundation or to put the cover back on your eyeliner. However, this is the easiest way for bacteria to get into your makeup. Always tighten the lids and caps of containers after use in order to prevent a breeding ground for bacteria. Also, if your cosmetics fall on the floor or leak onto another product, be sure to throw them out in order to prevent dust and debris from entering your eyes and eyelashes.
Never Share Makeup With Anyone
One of the biggest makeup "no-no's" that many women often commit is sharing makeup with their friends. While this simple gesture may seem harmless and helpful, it can actually lead to unfamiliar germs on  your cosmetics that may be hazardous to your eyes.  Also keep this in mind when heading to the makeup counter at department stores. You should never use a "tester" product that does not have single-use applicators such as sample sticks or cotton swabs.
Keep Still When Applying Makeup
No matter how much of a rush you are in or what type of transportation you are riding, it is never a good idea to apply eye makeup when in the car, even if you are just the passenger. If for some reason you were to hit a bump, take a sharp turn or stop suddenly, there is a good chance that your mascara or eye pencil would go right into your eye, potentially scratching your cornea.
Toss Out Makeup When It's Expired
All cosmetics, even powdered forms, should be thrown out and replaced every six months in order to prevent the spread of bacteria. Also, always remember to use a fresh applicator when purchasing new cosmetics to prevent the transfer of bacteria to your new product.
When used properly, eye makeup is a great way to open up your eyes and show off your natural beauty. However, it is always important that you practice proper upkeep and maintenance to protect both your vision and your looks morning after morning.
Image source: Jupiter Images