ALPHAEON launches first device that detects early existence of cataracts.
Detecting a cataract early on is one of the best things that you can do for your vision as you enter your senior years. Because cataracts grow slowly, early intervention can significantly delay or even stop further clouding of the lens, and therefore, delay vision problems from occurring. However, detecting cataracts early has never been a simple task for doctors.
In order to get a definitive cataract diagnoses, you must go to an eye care professional (not just your regular physician) where they can dilate your pupil and do a comprehensive eye examination. Dilating your pupils helps them to get a better visualization of the eye anatomy, including the lens. However, even then, doctors are only able to identify cataracts so early in the clouding process.
Luckily, a new device has just been licensed in the United States that will help eye doctors detect the onset of cataracts earlier and easier than ever before―the HD Analyzer™.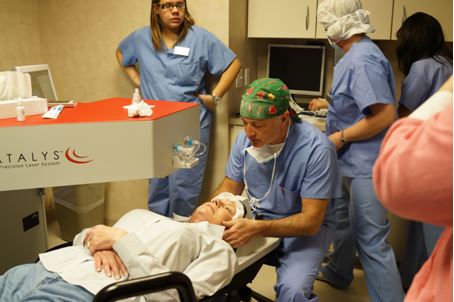 Acquired by ALPHAEON Corporation, a leader in lifestyle healthcare and wholly-owned subsidiary of Strathspey Crown Holdings LLC, from Visiometrics, S.L., the HD Analyzer is the first device of its kind that provides ophthalmologists with an assessment of light scatter inside the eye. This is essential in order to detect the existence of a cataract early on, commonly referred to as Dysfunctional Lens Syndrome.
According to a press release by ALPHAEON Corporation, the HD Analyzer's Optical Scatter Index (OSI) assists in the tracking of cataract progression and is an objective measurement of what a patient actually sees. The patented technology will help ophthalmologists more precisely determine if a 40 to 60 year old patient is better suited for laser vision correction or lens replacement surgery.
"This agreement embodies ALPHAEON's commitment to provide specialty physicians with technologies that optimize patient outcomes and experiences," said ALPHAEON Chief Executive Officer Robert E. Grant. "Light scatter is an early detector of Dysfunctional Lens Syndrome, making the HD Analyzer critical to patients' understanding of which self-pay vision correction procedure will lead to the best outcomes."
According to the press release, the HD Analyzer is already being used by several hundred ophthalmic centers around the world, and clinical validation has been established in more than 20 peer-review publications worldwide.
ALPHAEON Chief Physician Officer Dan Durrie, M.D., said, "This is a major breakthrough in our ability to evaluate patients. As a practicing refractive surgeon, the HD Analyzer has become my standard diagnostic procedure when examining a 40 to 60 year-old patient to determine whether I recommend a lens replacement or LASIK."
Given that cataracts are one of the leading causes of vision loss for seniors over the age of 60, the fact that doctors will now be able to identify the symptoms of this vision problem earlier than ever could significantly reduce this problem worldwide. It's a device that opens up a lot of exciting doors for both patients and doctors around the country, and we here at OCLI are excited to see what comes of this exciting technology. Let us know your thoughts in the comments below!
Information: Source