Make sure that your whole family follows these tips to keep their eyes safe!
The summer season is a favorite time for families everywhere because of the fact that children are out of school and there are an endless number of warm weather activities that can be planned! However, no matter if your family is spending summer vacation at the beach, the park or up north camping, there are a number of vision safety precautions that your whole family should take.
For children especially, because 90% of a person's total lifetime damage from UV rays occurs by the age of 18, you want to make sure you are limiting your child's exposure to ultraviolent rays this summer and also keep them protected during a summer of increased activities.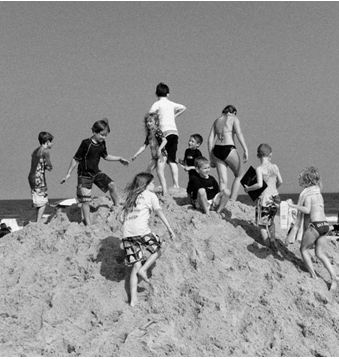 Here are six vision safety tips that your whole family should follow this summer in order to keep your vision healthy and strong:
1. Keep Your Distance From Bonfires
Whether you are cooking up some smores over the fire or are setting up a campfire, always be sure that you are supervising your children when there is a fire present. Too much smoke in your eyes can not only be irritating and drying, but if the smoke is inhaled, it can also cause you to pass out. Therefore, always stay a couple of feet from the fire and make sure that your children do the same.
2. Wear Sun Protection
We have said it many times, but it still remains just as important―the single most important thing you can do to protect your eyes is to wear sunglasses. Harmful UV rays can cause a number of eye problems, as well as sunburn on the surface of the eye and skin cancer around your eyes. Therefore, never let anyone in your family step outside without UV protection.
3. Wear Protective Eyewear During Sports
Summer is also a popular season for outdoor sports and activities. However, every year, nearly 18,000 sports-related eye injuries are seen in US hospital emergency rooms across the country. To help combat this number, The American Academy of Opthamology recommends that children wear polycarbonate goggles for baseball, basketball and racket sports, including tennis. Regular glasses are not recommended, since they usually are not secured to the head, nor made from polycarbonate.
4. Be Careful Of Sand In The Eye
When playing around on the beach or in the sand, it is easy for sand to get blown or thrown into your child's eyes. However, if this happens, do NOT allow your child to run their eyes, as this can cause serious damage to the cornea. Instead, taken them to a sink with running water to flush out the eye.
5. Stay On Top Of Pool Chlorine Levels
If you are the type of family that lives in the pool all summer long, make sure that you are checking each day to ensure that chlorine levels and pH levels of the pool are not too high. This will help to avoid any singing and redness. You can also encourage your children to wear goggles if their eyes are easily irritated.
6. Discuses Firework Safety With Children
There are a number of fun holidays and events to celebrate during the summertime. Often times, these events involve stunning, large firework displays. While these light up displays are gorgeous to look at, make sure that your children understand the safety risks of fireworks prior to these festive events and know to stay far away from any fireworks that are being lit. Parents should also wear protective eyewear when lighting and handling fireworks of any kind.
Do you have any other family safety tips for the summer season? Be sure to share your suggestions with us in the comments below!