Tips for keeping your eyes safe during summer night bonfires.
Now that we are nearly halfway through the month of August, the summer months are slowly coming to a close and the temperature across the country is starting to drop day-by-day in preparation for fall. However, while the drop in temperature outside may mean less time spent by the pool or the beach, the cool night air makes for a perfect late summer evening spent around the bonfire.
Bonfires have always been a fun summer pastime for both children and adults―roasting hot dogs and marshmallows over the flames while camping, laughing and swapping stories with friends in the backyard, and keeping toasty around the fire during an early autumn evening. However, while bonfires have become a staple activity for summer nights, many people often take for granted just how dangerous this activity can be.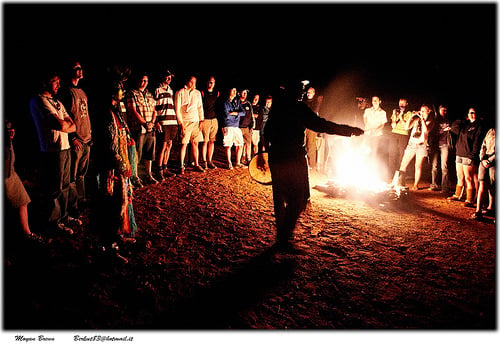 While telling stories and dancing around the fire are all traditional summer activities, bonfires can also lead to a number of possible injuries caused by the flickering flames. However, we are not just talking about burns or injuries inflected to the body, but any time you are around fire, there are also a number of possible vision injuries that could occur if you do not take proper precautions.
Luckily, you can easily prevent bonfire accidents simply by observing proper fire maintenance and understanding the many dangers that campfires can inflict on your eyes. Be sure to follow the following bonfire safety tips in order to lessen your chance of injury and have enjoyable summer evening, worry free.
Do Not Put Dangerous Items In The Fire
When it comes to kindling material, there are some items that should never be put into your bonfire. For instance, aerosol and pressurized cans can easily explode from the heat and the flames, so they should be kept well away from the area. Also, glass should be kept out of the fire because it could quickly shatter into your eyes or throw sharp slivers into the surrounding areas. Instead, stick to the approved firewood suggested by your local fire department.
Always Stay A Safe Distance Away
The sparks and bursts of flame that fly out of a bonfire are often the most dangerous, as they can occur so quickly that even your eye lids may not have time to react to the danger. Therefore, keep far enough away from the flames to prevent any injuries from occurring. This is also important for your overall safety, because countless campers have tripped over rocks or their own feet and have fallen into bonfires, resulting in serious injuries.
Avoid Bonfire Smoke
Whenever you are sat around a bonfire, it is difficult to avoid the smoke that comes with this nighttime activity. However, smoke from a fire is not good for both your eyes and your lungs. If you are in the direct line of bonfire smoke for too long, your eyes will start to get really dry and red, which can cause discomfort and irritation. Campfire smoke is also one of the primary causes of lung cancer found in non-smokers, due to the buildup of carcinogenic toxins it can cause in the lungs.
Bonfires are a great activity to share with friends and family over a cool summer evening. However, be sure to follow these three important fire safety tips to ensure that your vision is kept safe during this fun summer activity.
Image: Copyright by Moyan Brenn