Should you purchases lenses from home or from your eye doctor?
In this day and age, you can order nearly anything online―medical prescriptions, household supplies, furniture, groceries, you name it. In fact, many people across the country prefer to do all of their shopping online just because of the sheer convenience that it brings over traveling to the supermarket or mall. You can get all of your shopping done with just a click of a button and never even have to leave your house!
However, in terms of convenience and price, it is always better to buy everything online? When it comes to your prescription eyeglasses, there are many pros and cons that come with buying your lenses online vs. through a store.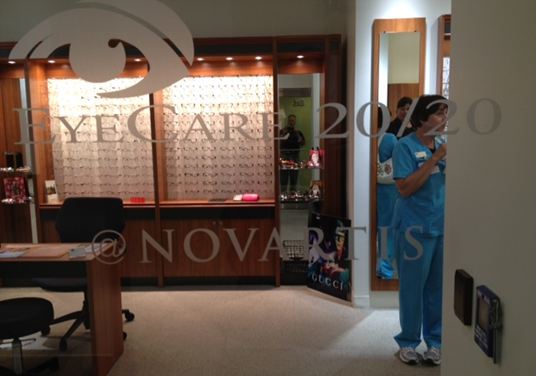 According to the Vision Council, 1.9 million pairs of glasses were purchased online in 2013, with about 2.8% of those total 66.8 million lens purchases happening within the United States. Many people like to purchase their lenses online because many people can comparison shop to find the best deals and save themselves the convenience of going store to store shopping for the perfect frames.
However, when it comes to purchasing the perfect pair of glasses online, there are many issues and risk factors that one must consider between the quality and safety of the lenses, and finding the perfect measurement and fit for you. To give you a better idea of what issues you should be aware of when purchasing prescription lenses online, here are just a few pros and cons you can expect:
Quality And Safety
In many cases, you do not always get what is promised of your eyeglasses when you order them online. For instance, a small study published last year in the journal Optometry found that nearly half of prescription glasses that were bought online either contained the wrong lenses or didn't meet the standards for impact testing―meaning the lens either cracked or shattered. In many cases, lens treatments such as anti-reflective coating was either incorrectly added or omitted all together.
When ordering glasses online through an unknown company, you never know what steps are being skipped or whether or not you are truly getting the safe, quality lenses that you are promised. However, ordering glasses through your optician will ensure you are getting the best quality frames possible.
Fit
Finding the perfect frames for you online has come a long way in the last few years. Some sites offer virtual fittings, where you can upload a picture of yourself and get a view of what the frames you like will look like on you. Some companies even will send you the frames to try them out before you buy them.  When it comes to traditional optical stores, an optician will typically walk you through the process of choosing the best frame shape, size and style that compliment your face, while also suggesting the best add-ons for your glasses that fit your lifestyle.
However, no matter if you purchase your glasses online or in a store, you may want to ask your doctor's office to verify that the prescription is correct.
There are many pros and cons for ordering your prescription eyeglasses online. While the bargains that you can get online may seem attractive, it is also important to weigh safety and quality against the price to find the pair that is best for you.