Give others something to be thankful for this upcoming holiday through charity.
Thanksgiving is one the greatest holidays of the entire year for a number of different reasons. Not only are you able to get together with your family and friends for the start of the holiday season, but you also get to stuff your face with tons of delicious homemade foods, and relax all day long watching Thanksgiving football and catching some of your favorite floats in your local Thanksgiving Day parade.
However, not everyone gets to spend the holiday with their friends and family, or gets to sit around a warm, loving table that is packed to the edges with food. And while many people across the country use this wonderful holiday to be thankful for the many blessings and opportunities that they have in their own lives, it is also great to use this day to give back to others.
Here at OCLI, we love to give others in our community something to be thankful for during Thanksgiving. In the last few years, we have joined forces with a number of difference helpful organizations in New Jersey and across the globe. It is these amazing partnerships and charitable efforts that allow us to truly be thankful for what we have, and we feel so grateful to be able to make a difference in the life of someone less fortunate.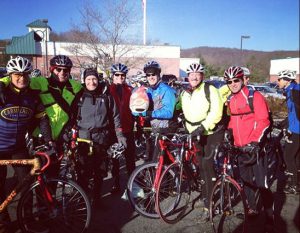 If you are looking for a way to help someone else be thankful this upcoming Thanksgiving, here are a few great organizations that we work with or have worked with in the past that could use your love and support:
Vision Harvest
The annual Vision Harvest event in New Jersey is an amazing event that we here at OCLI participate in each and every year. During this important event, Dr. Silverman, along with other physicians in the area, offer free cataract surgery procedures for people who are uninsured and do not have the financial resources to undergo this life-changing procedure. This past month, during 2013's Vision Harvest, we were able to give eye examinations, testing, medication and surgery to cataract patients in need, completely free of charge. Help us make this even possible for years to come by donating to Vision Harvest today!
Turkey Bike 
Join Dr Silverman on Saturday November 23th at 7:30am for the fifth annual Turkey Bike.  The ride that brings cyclists and turkeys together to help support the New Jersey Food bank in their mission to bring food to families in need.  Cycle Craft has put together a great route that has our ride dropping our turkeys at Smartworld Coffee in Denville where participants will enjoy coffee and snacks before heading back to Cycle Craft in Parsippany. The total ride is about 25 miles with about 4 miles carrying turkeys that we will pick up at Kings Sueprmarket in Boonton.  You will need a road bike, helmet, money to purchase a turkey, and a backpack to carry the turkey while cycling.
Community Food Bank of New Jersey
One of our favorite local organizations, the Community Food Bank of New Jersey helps to ensure that no family goes without food during this holiday season. We have teamed up with them in years past in order to help fight hunger and poverty in our local community by distributing food, providing education and training, and developing new programs to help people with low incomes meet their basic needs. This is a great place for you and your entire family to volunteer on Thanksgiving day, and you will be doing a lot to enrich the Thanksgiving holiday for those in need.
The Valerie Fund
Established in 1976 in memory of nine year old Valerie Goldstein, by her parents Ed and Sue, The Valerie Fund provides state-of-the-art outpatient health care throughout the tri-state area for children with cancer and blood disorders . Patients receive far more than treatment for their physical illnesses, as the philosophy of The Valerie Fund is to treat them emotionally, socially and developmentally, as well as medically.