The Community Food Bank of New Jersey fights hunger and poverty by distributing food and groceries, providing education and training, and developing new programs to help people with low incomes meet their basic needs.
As a non-profit organization, they act as the central food distribution center for other non-profits in NJ that serve individuals, soup kitchens, food pantries and shelters.
Join OCLI in our efforts to see that no one goes hungry this Thanksgiving season.  By clicking here, your generous donation of $50 will provide NJ individuals, soup kitchens, food pantries and shelters with the help they need.  For every dollar of their operating budget, the Community FoodBank of New Jersey is able to distribute $9.59 worth of food and groceries.  Donating online is an instant and easy way to support the Food Bank.
Make your donation today, and OCLI will match it and extend a $500 discount towards LASIK.  Then forward this link along to a friend or family member who is interested in LASIK and have them do the same, get the picture?  Blog it, tweet it, post about it on Facebook...tell your friends!  The more people involved, the more change we can make.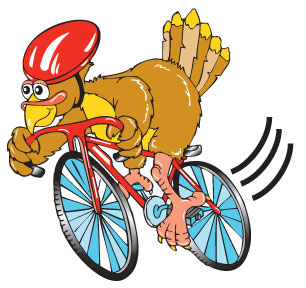 You can also help the Food Bank by joining Dr. Silverman and the folks at Cycle Craft in bringing Thanksgiving dinner to families who could use a little help this year. On Saturday November 19th, for the third year, we will ride as a group over to the supermarket to pick up some frozen turkeys and ride them over to the New Jersey Food Bank food drive drop off point in Florham Park. The ride is not far but it is a bit challenging to carry a 25lb turkey on your bike!  ( A backpack works pretty well) We will meet at 8:00AM at Cycle Craft Parsippany and finish up around 10:30 with cider, donuts, and coffee at the store. Last year we delivered 27 turkeys. This year we would love to make it over 60. Won't you join us?
Click here to register