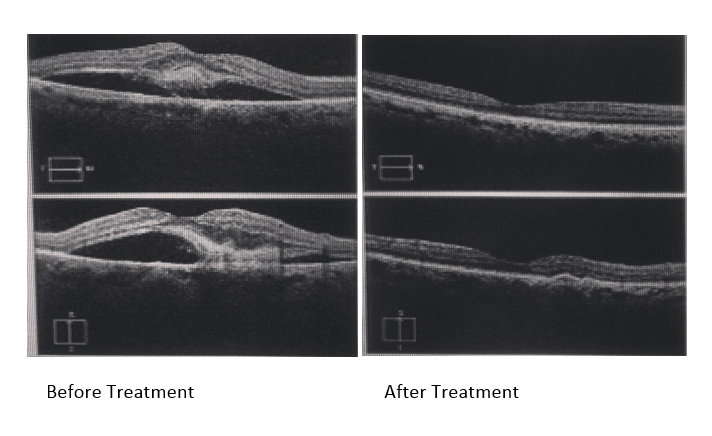 Currently, treatment of wet macular degeneration and diabetic macular edema requires repeated injections costing thousands of dollars. In order to minimize side effects on the rest of the body, such as a stroke, antibodies that block a protein called VEGF must be directly injected into the eye.
There may be hope, however. In a recent study published in the Journal of Clinical Investigation on September 2, a multicenter team of researchers discovered a more indirect, biochemical way to reduce the effects of VEGF. This pathway suppresses the protein that causes abnormal blood vessel growth and leakage in the eye symptomatic of the diseases.
"We've known for several years that activating the Tie2 pathway that indirectly suppresses the effects of VEGF had great potential, and the new approach we tested in this study provides a great way to take advantage of that," says Peter Campochiaro, M.D., the George S. and Dolores D. Eccles Professor of Ophthalmology at the Johns Hopkins University School of Medicine and a faculty member at the Wilmer Eye Institute at Johns Hopkins. "This new agent not only makes blood vessels in the eye less responsive to VEGF, but it also reduces leakage caused by other proteins that are active in eye diseases."
The experiments were performed on mice genetically engineered to have vascular eye disease. One group received direct injections to the eye while the rest were given a small molecule, AKB-9778, which entered the eye from the bloodstream.
Compochiaro continues: "If further studies show that the small molecule is safe and effective for people, patients could give themselves an injection under the skin every day. Our studies in animals so far suggest it doesn't have major side effects. If confirmed in clinical studies, this could reduce the need for patients to come in frequently to get injections in the eye." He adds that AKB-9778 may also stabilize blood vessels in other parts of the body and lower blood pressure.
It is estimated that 2 million Americans currently suffer from age-related macular degeneration and this figure is expected to rise to 3.5 million by 2030 and 5.5 million by 2050. About 20 percent of these patients experience abnormal blood vessel growth and vascular leakage so this new treatment, if substantiated, would be of significant benefit. Moreover, an equally large number of patients suffering from diabetic macular edema could be successfully treated with this method.
The impact on patients' lives would be dramatic. No more expensive injections directly to the eye and the possibility of injecting themselves under the skin with relative safety. Researchers also believe that subjects with particularly severe cases might benefit from a combination of direct and skin injections.
For more information on this or any other eye health issue, give the OCLI office a call today. We'd be happy to schedule a time to meet with you and discuss your eye care needs, whether they involve surgery or just a new pair of glasses.