Find the perfect vision gift for your dad this Father's Day with these tips.
Each year the children of the world put one short day aside in June to honor their fathers and spend time showing them just how much they love and appreciate them. Whether you live across the country from your father and celebrate this special day with just a simple card, or you are lucky enough to spend the entire day with your dad bonding over one of his favorite hobbies, Father's Day is just one small opportunity a year to show your dad how much you care.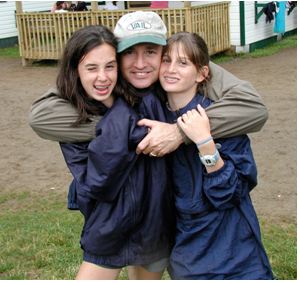 However, while your father would surely enjoy just a simple gesture or phone call that expresses your gratitude to them this upcoming Father's Day, sometimes a unique and special gift picked just for dad can get that message across even further. For instance, perhaps you could purchase them an item that they may have always wanted for themselves but never made the jump to actually purchase, such as a new golf club or fishing pole.
If you are stumped what to get your father this upcoming Sunday, June 16th for Father's Day, here are a few fun vision related presents that will help your dad see, with perfect vision, just how much you care:
LASIK Eye Surgery
If you are looking for a gift that will truly wow your dad and show them how much you care about their health and well-being, look no further than the gift of LASIK eye surgery. This procedure is one of the most popular and effective alternatives to corrective lenses available today, and it can also help to correct refractive errors such as nearsightedness, farsightedness and astigmatism. Plus,  with the increased precision that many eye doctors are seeing from new wavefront technology, your father will be amazed by not only how much he can see, but also how well he can see following surgery.
Sunglasses
Anyone who has to wear prescription glasses will tell you what a hassle sunglasses can be during the summer months. Not only do you have to switch our your lenses every time you go from being indoors to outdoors, but if you do not invest in prescription sunglasses, you are also walking around blind every time there is a little sunshine. This can be very dangerous for people driving or being active outdoors. Therefore, invest in a nice pair of prescription sunglasses for your dad this Father's Day and ensure that he is protected each time he heads outside. Even if a prescription is not required, regular sunglasses also make the perfect Father's Day gift as they help protect your dad from harmful UV rays and make the perfect summer accessory for his favorite outdoor activities.
A Donation In Their Honor
If your dad is hard to buy for or seems to already own everything you are thinking of buying him, why not make a gift donation in his honor for a needy charity instead? One great vision charity that you should consider donating to is VisionHarvest. This helpful non-profit organization helps those that are uninsured and can't afford to pay for cataract surgery. Each year, participating eye physicians evaluate prospective cataract patients and schedule them for their free procedure. Eligible patients will have all eye examinations, testing, medications, and surgery provided to them free of charge.
"Individuals with cataracts and poor eyesight don't have the time to waste to wait until the government steps in in four years, these patients require medical intervention sooner rather than later." said East Hanover ophthalmologist, Cary M. Silverman, M.D. who organized the event. "Our goal is to make sure that any vision impaired person without insurance or financial resources learns about this remarkable program."
Do you have any more great gift ideas for Father's Day? Be sure to leave all of your thoughts and suggestions in the comments below!