Taking a closer look at the rights of people living with macular disease.
When it comes to vision, there is no one treatment, procedure or disease that deserves more attention than the others. For instance, for many people, the simple, yet effective LASIK surgery procedure can turn their entire world around and improve their vision for good. However, for others, wide-spread treatment for vision problems such as cataracts and glaucoma are more significant because of the damage that these diseases can have on your eyes.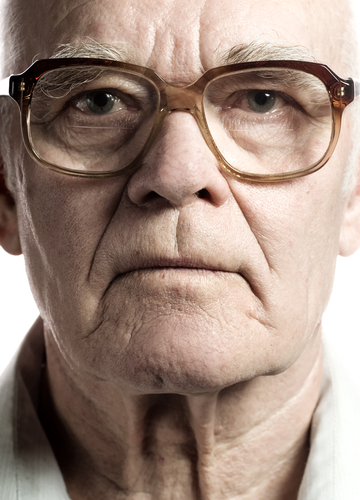 While there is no one-size-fits-all answer to which vision problem deserves the most attention, the fact that people are taking the time to research, understand and get tested for each of these vision problems can go a long way towards spreading awareness.
With this in mind, for September's Age-Related Macular Degeneration (AMD) Awareness Month, we are looking closer into why this vision problem has become the leading cause of vision loss and blindness among the elderly and its effect on Low Vision.
What is Age-Related Macular Degeneration (AMD)?
Age-related macular degeneration occurs when the macular―the central portion of the retina―becomes severely damaged. And while AMD is a single disease, it typically takes on one of two different forms: dry macular degeneration (the most common form) and wet macular degeneration.
Dry Macular Degeneration is usually the earliest stage of this disease and is caused by the aging and thinning of the macular tissues or the deposit pigments into the macula. However, wet macular degeneration is swelling that is often a result of leaking blood vessels that affect the macular. It's important to note that web macular generation nearly always begins as dry macular degeneration.
A Low Vision Patient's Bill of Rights
As with any significant vision problem, it is important that patients who have this disease understand their rights and know how to seek the high quality of care that they deserve. In honor of AMD Awareness Month, AMD Alliance International has crafted The Macular Disease Patient Charter―a bill of rights for people with macular disease, so that they may have a better understanding of their individual rights. The bill focuses on four main principles:
1. Awareness, Prevention and Cure: "People have the right to expect that: Research into causes and cures will be supported by public funding; public awareness programs will be developed to ensure that awareness of MD as a disease with risk factors is enhanced and action can be taken to reduce risk and future incidence of MD."
2. Diagnosis: "People have the right to: A timely and accurate diagnosis from qualified and accredited personnel. Be treated with dignity and respect, which includes receiving timely, supportive and respectful answers to questions, to receive, at the time of diagnosis, full and complete information about MD, about potential changes in the life journey ahead, and about how to access non-medical resources such as vision rehabilitation and counseling,  to bring caregivers and family into doctor's appointments if they so wish. All people are entitled to the rights outlined in this Charter regardless of age, gender, marital status, ethnicity, religion, sexual orientation, education or financial status."
3. Treatment: "Persons with macular diseases have the right to: Timely care with best possible approved or authenticated treatments, to make an informed consent to treatment, which means they must be provided with information to ensure understanding about all approved treatment or disease management options, potential benefits, risks and side-effects."
4. Care and Support: "People have the right to: An optimum standard of care, which includes receiving information about: options for disease management, including follow-up eye exams and on-going care and risk management strategies. Low vision services and vision rehabilitation, including referral to self-help and professional services such as counseling or other psycho-social services. All people are entitled to the rights outlined in this charter regardless of age, gender, marital status, ethnicity, religion, sexual orientation, education or financial status."
To learn more about age-related macular degeneration and it's symptoms, causes and treatment options, be sure to stay tuned for future blog posts throughout September's AMD Awareness Month. Also be sure to contact OCLI today for more information about treatment for this low vision problem.
Research: Source