Spreading the word about dangers & treatments for February's Low Vision Month.
When it comes to the health and strength of your vision, there are few things that are more important for preserving your eyesight than annual eye examinations. Not only do these detailed exams help to uncover common vision problems such as nearsightedness, farsightedness and astigmatism, but they can also teach you how to take necessary precautions against dangerous outside factors that cause decreased vision.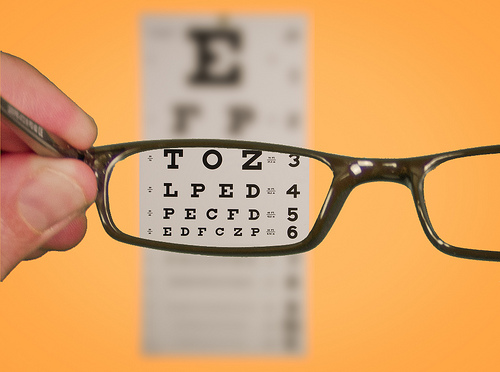 There are many vision conditions that come with age that can have a significant impact on our eyes and our eyesight. For instance, common eye problems such as age-related macular degeneration (AMD), diabetic retinopathy and glaucoma are all increasing as the population grows and demographics shift more towards the predominance of older age groups.
In fact, in 2002, more than 161 million people across the globe were found to be visually impaired. Of these 161 million, 124 million people had low vision and 37 million were blind. Given the impact of these shocking statistics and numbers, OCLI is coming together during Low Vision Month this February to help spread awareness to the dangers of low vision and help educate our readers on the importance of regular vision screenings.
What Is Low Vision?
Eye care professionals use the term "low vision" in order to describe significant visual impairment that cannot be corrected simply with standard glasses, medicine, contact lenses or eye surgery.  The eyesight of a person who has low vision may be blurred or partially obscured in the central visual zone due to macular degeneration, blurred or hazy from contacts, or distorted by diabetic retinopathy.
Low vision typically includes the loss of best-corrected visual acuity―to a level worse than 20/60 in the better eye―or visual field loss, such as tunnel vision or blind spots. It can also describe legal blindness and almost total blindness.
Low vision has a number of different causes, including diseases, eye injury and heredity, and it is found to be unequally distributed across age groups. In fact, more than 82% of all people who are blind are 50 years of age and older, although they represent only 19% of the world's population.
How Is Low Vision Diagnosed?
Here at OCLI, Dr. Nicholas Xanthos pecializes in providing services to our low-vision patients at our both our East Hanover and West Orange practices. These services include comprehensive eye exams,implementation and instruction in the use of optical devices, strategies for adapting to vision impairment, prescriptions and dispensing of low-vision optical devices,  and more. Our goal through our low vision department is to maximize the functional level of our patient's vision by optical and non-optical means.
How Do You Correct Low Vision?
Low vision services and procedures do not cure the vision problem once and for all. Instead, they utilize a person's remaining vision to its highest potential. Many eye care facilities, including OCLI, provide a variety of low-vision devices that can help to improve the quality of life for individuals with this condition.
Some of these low-vision assistance devices include:
Telescopes
Microscopes
Specially-designed reading glasses and lenses
Magnifiers (video and hand-held)
Kindle Readers
If you are someone you know suffers from low vision, it is important to schedule an appointment with a certified eye professional in order to take care of the problem before it possibly gets worse. Diagnosing low vision early on can also help to avoid many other problems that may stem as a result of this vision condition. Therefore, contact OCLI today to set up your annual vision screening for healthier, clearer vision.
Image: Source