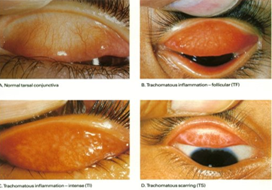 Trachoma is the leading infectious cause of blindness. A neglected tropical disease, it is responsible for the visual impairment of around 2.2 million people, of whom 1.2 million are irreversibly blind. Internationally, 53 countries are assessed to be endemic for blinding trachoma. Trachoma results from ocular infection with the bacterium Chlamydia trachomatis which is spread by direct contact with eye and nose discharges from infected persons, or by contact with objects that carry the infectious agents, such as towels or washcloths. Eye-seeking flies can also be a route of transmission. Recurrent infection of the ocular surface leads to inturning of the eyelashes and blinding corneal opacification.
Ethiopia is one of the countries in which health officials are fighting to eliminate endemic trachoma, and the women of Ethiopia are joining hands to help. Along with Sudan, Ethiopia has the highest reported rates of Trachoma. It is the second leading cause of blindness in Ethiopia with 9.9 million children under nine suffering from it. Another statistic shows that active trachoma is found in more than 50% of children under 10, and trichiasis, an early stage of trachoma, is found in up to 19% of adults.
The tragedy of trachoma, and why it is rarely, if ever, found in developed countries is that it is preventable. The confederation of national development NGO's – "Light For the World" – has been working hard to implement national eye health initiatives to prevent trachoma and other eye diseases through the World Health Organization's Initiative "Vision 2020 – the right to sight." A key measure of this movement is outreach within local communities, such as embodied by the project – "Army of Women."
A Light for the World program officer helps train the "Army of Women," who go on to spread the message of how to prevent Trachoma. They are inspiring women who, in addition to helping their husbands with the farm and cooking and caring for the children, set an example of informed action within the community. Upon waking, the first thing they do is clean the latrine, the compound, the house, and the materials. In addition to setting a good example, they counsel other women of the importance of keeping their family's hands and faces clean, as well as of constructing and using latrines. They also know and can share with the members of the community where the health posts are and what resources might be available to them if they become sick.
Mebrit Kasua, a 20 year old "soldier" in this public health army, shared, through a translator, "I am the key leader for 13 householders and I am one of the examples for the other group members, and when we have meetings, I just share my experience to the group members and invite them to see what I am doing, and learn by seeing what I am doing."
Light for the World, with its "Army of Women," works diligently in Ethiopia and other developing countries with the goal of eradicating Trachoma worldwide by 2020. If you'd like to support the effort of this NGO and its "Army of Women," you can donate here.