Improving your eyesight at work & home with interchangeable protective glasses.
Your vision is a very important part of your day-to-day life: working at your job, participating in physical sports and activities, spending time outdoors with friends and family. While many people view healthy vision as an essential part of living a comfortable, productive life, for others, it is valued as much more.
In many professions, healthy vision is an indispensable aspect of work. For instance, to a police officer or a fireman, vision is more than just another working sense in their body. It is how they evaluate a crime scene, inspect a potentially hostile situation, identify whether or not a person is in danger. It is necessary that, in situations such as these, a person's vision is not compromised.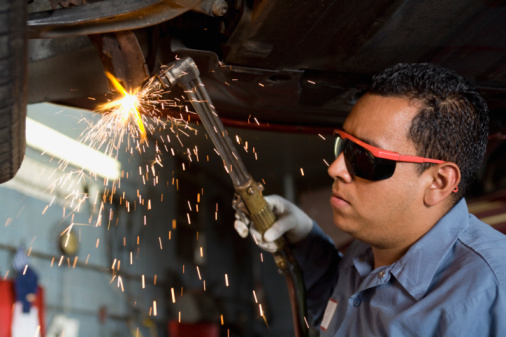 However, our serviceman are not the only ones who need to worry about their vision while at work. Mechanics, chemists, athletes, welders, construction workers, and many other professionals who work in potentially dangerous environments should always be conscious about maintaining their healthy vision.
While having regular vision exams and check-ups can help to ensure that you have healthy, long-lasting vision, it is also important that you wear proper eye protection while participating in activities that are dangerous to your eyes. So, whether you are looking for safety glasses for personal use, for physical activities, or for eye protection on the job, you should always choose safety glasses that are right for you:
Mild Protection for Sports and Contact Situations
While participating in sports and contact activities, it is important that you have glasses that not only protect your eyes, but also enhance your vision while playing. Bolle offers excellent selections of polycarbonate protective lenses for those who are active in sports.
One of their best protective frames, the Bolle Vigilante, comes with four different colored interchangeable lenses than can be swapped in and out depending on your activity. The four lens colors (clear, smoke, vermilion and brown) can add a whole new set of functionality to your activities.
However, the reason that these frames make such great safety glasses is that your prescription lenses are placed behind the actual tinted glasses of the frame. That way, if for some reason the outside gets scratched, you will not have to worry about ordering new, expensive prescription lenses―only the outside polycarbonate lens.
Serious Protection for Dangerous, Vision-Compromising Situations
When working in a situation where your vision is constantly compromised by dangerous, threatening work, it is important to select the most protective eyewear available. Safety glasses and sunglasses that are ballistic rated are becoming one of the fastest growing options for protective eyewear.
Glasses that have passed ballistic testing, such as the ESS Interchangeable Component Eyesheild (ICE), are designed to provide serious impact protection beyond the typical industrial standards. This is typically the type of safety eyewear worn by those serving in Armed Forces or Law Enforcement fields.
The ICE series eyesheilds made by ESS are available in four types of tint lenses and, like the Bolle lenses, have the option of swapping out colors depending on a person's activity. These lenses are especially helpful for those who are constantly on the move as they wrap completely around the ears and come with an elastic band retainer that snaps into the temples.
Whether or not your eyesight has been compromised in the past while working or participating in physical activities, it is always important to wear proper safety eyewear. Your eyesight is one of the most important senses in your body and it is definitely worth protecting.
Image Source: Jupiter Images