Why you should make sunglasses a part of your daily winter wardrobe.
Whenever someone thinks about sunglasses, they typically conjure up one particular image in their mind: a man or woman lying waterside at the local beach, soaking up the warm summer rays and relaxing in nothing but their bathing suits and their most stylish protective lenses. And, while summer is the optimum season for people to get outside and hide their eyes behind their fabulous new designer frames, it is not the only time of year where you should be protecting the health and safety of your vision.
Wearing sunglasses during the winter season is just as important, if not more so, than wearing eye protection during the summer months. While it may be difficult to feel the effects of the sun's rays when you are outside in the freezing snow or ice, many times you may actually find that you have double UV exposure during the heart of winter.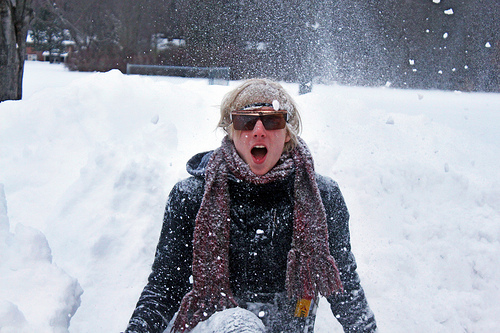 During the snowy season, the winter sun sits at a different angle and is at a lower position in the skin. This means that your eyes can fall victim to more exposure from the sun's harmful UV rays if you are not taking proper steps to protect them. The snow of the winter season can also act as a mirror, reflecting up into your eyes which could potentially cause snow blindness.
So, how do make sure that you are protecting your eyes from bright winter sun? The best, most efficient way is by wearing sunglasses, even on the coldest days of the year. Here is just a little more information about the dangers that the winter sun may bring to your vision:
Dry Eyes
Whenever you are walking around, whether it be in a great, big city or just a nearby small park, the cold, winter wind are constantly playing a role in your eyesight and your vision safety. When the wind begins to whip towards your face and sting your eyes, it can lead to direct dryness to the skin and eyes. One of the best ways to prevent this problem is to give your eyes periodic breaks throughout the day to stay closed and hydrated.
Sun Damage
Excessive exposure to the sun can have dangerous, significant effects on many different parts of our body, including our eyes. Dangerous exposure to these harmful UV rays can lead to frequent vision problems, as well as the onset of several serious eye diseases, such as the development of cataracts.
Sun And Snow Blindness
Anyone who has ever driven while there was snow on the ground knows just how reflective and distracting this festive holiday treat can be. Even when there is no snow falling, you are still at risk of the UV-related vision problems commonly caused in the winter because it is glaring off of the top of the cement you are driving on, creating a bright, blinding reflection in your eyes.
While, for some people, sunglasses may be more about picking out a lens and frame that works best for your facial type and features, there are many other factors that you should keep in mind when purchasing sunglasses. After all, there is nothing that looks cooler than a pair of sunglasses that protect your eyes and the health of your vision.
Image: Source