Celebrating Eye Injury Prevention Month from October and beyond.
Corrective lenses and regular eye examinations can go a long way towards maintaining healthy vision and ensuring that your eyes are safe and strong year after year. Whether you are someone who has just begun wearing glasses or contacts, or you are a seasoned veteran to the eye care world, there is a certain amount of precaution and prevention that goes into healthy vision.
One step that all people must take―even those who have perfect 20/20 vision―is practicing eye care safety each and every day, while also ensuring that you do not expose your eyes to any unnecessary accidents. While it may seem like a simple task to keep your eyes out of harm's way, you would be surprised just how many tasks and objects we encounter on a daily basis which can potentially lead to serious vision problems.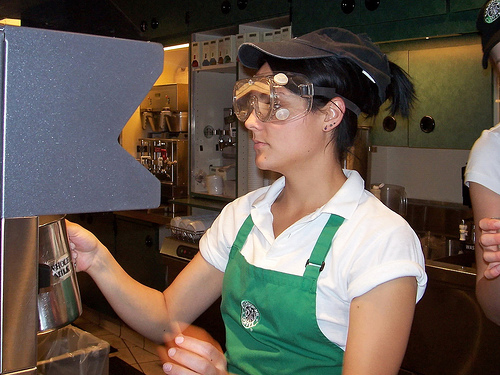 In order to shed light on the importance of safe vision, the American Academy of Ophthalmology has declared October to be National Eye Injury Prevention Month. They hope that by sharing some of the most common vision accidents and causes, as well as some tips on how to maintain healthy vision, many people can avoid these eye injuries that occur each and every year.
In support of this national observance, we here at OCLI have put together some tips and tricks for keeping your vision safe, both in the work place and at home.
Eye Injuries At Home
While many people are under the assumption that the majority of eye injuries happen during sports or on the job, nearly half of all eye injuries (44.7 percent) occurred in the home. These types of injuries can stem from projects such as home repairs and yard work, or even from regular daily tasks such as cooking and cleaning.
According the a national survey conducted by the AAO, more than a third (34.2 percent) of home eye injuries occurred in living areas such as the kitchen, bathroom, living room and bedroom.
Eye Injuries From Work And Fitness
More than 40 percent of eye injuries that occur each year are related to sports or work related activities. These do not even have to include high-risk activities, such as welding or machinery. Even employees who work in offices run the risk of developing eye injuries.
The most important thing that you can do to protect your eyes in work-related situations is to properly prepare for the safety dangers of work before you head in. For instance, bring proper eye protection, eliminate any hazards before starting the job, and always be aware of those working around you.
While the type of safety eyewear that you should wear depends completely on the situation at hand, you should always make sure that you are adequately prepared for any accidents and obstacles in your future. As long as you take proper preventative measures, you can ensure that your eye safety lasts long after Eye Injury Prevention Month has ended.
Image: Source