Bring multi-tasking to a whole new level with the motion reading device.
If you're anything like us, sometimes it can feel as though there simply enough hours in the day. Your daily to do list may start off jam-packed (gym, work, food, errands, social events, reading, tucking in the kids, etc.), but before you know it, you end up making sacrifices as the daylight slowly begins to run out way sooner than you expected.
Unfortunately, it's often our favorite hobbies and activities that get the boot in favor of things we can't afford to miss. For instance, cutting out our evening hour of reading or our morning newspaper and cup of coffee for a grueling daily workout. But one new tech company, Weartons, is bringing multi-tasking to a whole new level by letting you tackle two of these tasks at once with their Run-n-Read product.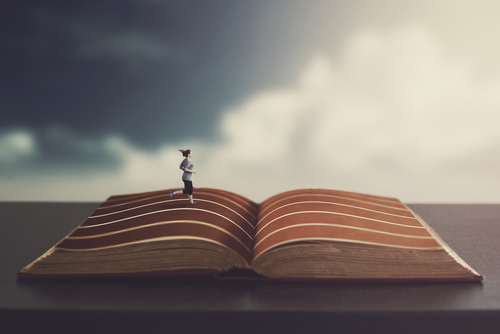 The Run-n-Read is just what it sounds like―a revolutionary device that lets you catch up on your newspaper or book while running on the treadmill. However, the reason this device trumps other technologies that have attempted to do the same thing is because of new technology that keeps text in sync with your eyes the entire time that you are running.
The Run-n-Read's technology works in three ways:
Tracks head movements: The exclusive patent-pending technology used by the Run-n-Read monitors all 3D motions while you are exercising or even riding on a bicycle. This allows it to track your head movement and adjust your reading device.
Connects via Bluetooth: You no longer have to worry about your hand bopping up and down as you run, as the Run-n-Read lets you connect your reading device via Bluetooth. The product even supports all popular iOS/Android Tablets, eReaders and Smartphones, so your favorite reading device won't be left out!
Stabilizes content on an electronic display: Intelligent algorithms used by Run-n-Read move your book's text in real time. Therefore, while your head may be moving while you run, the words of your book will not.
What is even cooler about this new Run-n-Read product is that they have worked closely with ophthalmologists to look at this product from a vision point of view. Dr. Steven Zabin, an advisor on the project with 29 years of clinical experience in the ocular and visual system, said of the project, "It's like sitting on your couch and reading a book."
The intelligent algorithms of Run-n-Read also prevent you from going dizzy when looking at the text because of their extremely fast refresh rate. At 60 frames per second (movies are at only 24 frames per second), this device provides users with a seamless reading experience "akin to being at rest."
If you are interested in learning more about Run-n-Read or finding out when this amazing new product hits shelves, be sure to sign up for updates on Weartrons website. In the mean time, would you use this kind of technology if it meant completing two of your daily activities at once? Be sure to share your thoughts with us in the comments below!