Answering your commonly asked questions about LASIK and sports.
When it comes to improving the health and precision of our vision, it is no secret that LASIK eye surgery is one of the most beneficial procedures available for people with all different types of vision problems. Whether you are a long-time wearer of glasses due to near or farsighted vision, or you are someone who wears contact lenses simply to give the clarity of your vision an extra boost, LASIK eye surgery can help you to ditch your corrective lenses once and for all and see the world through clearer eyes.
However, despite the overwhelmingly positive articles and research that surrounds the results of LASIK surgery, many people are still hesitant about the effect that this popular procedure could have on their day-to-day lives, especially amongst people with active lifestyles.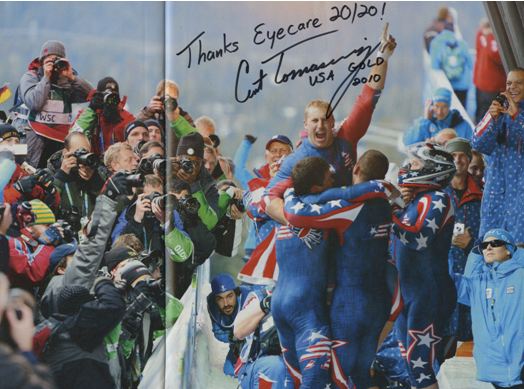 When it comes to the benefits and advantages of LASIK eye surgery, there is a common misconception among athletes in particular that this vision procedure can be a huge risk, and even a danger, for active people who are looking into the procedure. However, the truth of the matter is that LASIK surgery is one of the safest, most non-invasive surgeries available today, and it has an extraordinarily fast recovery time that will have athletes back in the game in no time.
To give you a better idea of how LASIK eye surgery can have a beneficial effect on athletes and people with active lifestyles, we are answering some of your most commonly asked questions about LASIK and sports, as well as sharing our first hand experience with Olympic athletes who opted for this beneficial procedure:
Question: Will my vision be just as precise as it was with contacts or glasses?
YES! In fact, it will be better. When an athlete is participating in any given sport, whether it is out on the field or inside on the court, their vision is one of the single most important tools for their performance. However, if you are wearing corrective lenses, then your vision acuity and hand-eye coordination is not nearly as precise as it could be.
For instance, dust or debris could easily fall into your lens, causing you to miss a shot, or your glasses could even break or shatter if you are hit too hard during a foul. LASIK allows athletes to move more comfortably and freely through the game without worrying if one of their lenses will pop out, or if their glasses will fall off.
Question: Is LASIK the best choice for high contact sports (i.e. boxing, martial arts, etc?)
Sometimes. While LASIK will still give you more protection and precision than corrective lenses in high-contact situations, if you are someone who is actively involved in activities that may lead to an eye injury, such as boxing or martial arts, it may be better to opt for LASEK surgery. This beneficial procedure is similar is LASIK, expect for the fact that it does not involve creating a flap in the eye. Therefore, if a person gets hit in the eye following this procedure, there is no increased risk of injury.
Question: Do professional athletes seek out LASIK to improve their performance?
YES! Many Olympic athletes and notable athletic competitors, such as Curtis  Tomasevicz (2010 Olympic Gold Bobsledder, 2006 Olympic Gold, Silver, & Bronze Speedskater),  Katherine Reutter (2010 Olympic Silver and Bronze Speedskater), Chad Hedrick (2010 Olympic Bronze Speedskating Team), and Kristi Leskinen (Professional Free-Skier and X-Gamer), have come to OCLI in participation of LASIK For The Gold in order to improve their sight and their sport through LASIK surgery.
An avid sports fan, Cary M. Silverman, Medical Director of OCLI, began LASIK For The Gold as a means of helping to support some of America's top athletes who participate in sports outside of those typically associated with professional ranks.
However, not just professional athletes can benefit from LASIK eye surgery. If you are interested in finding out if you are a proper candidate for this popular procedure, be sure to fill out our free LASIK evaluation on Facebook, or contact OCLI today to schedule a consultation.