LASIK Eye Surgery makes the perfect gift this Valentine's Day.
This morning when you woke up, did you notice that there was a little extra love in the air? Birds were chirping happily, your co-workers were friendlier and more caring than usual? No, your town has not been hit with a giggly wave of endorphins. It's Valentine's Day, of course!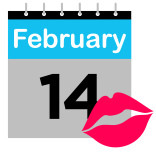 Today is the biggest day of the year to share with your loved ones just how much you truly care and express your love with a great grand gesture. Whether that be through flowers, chocolates or the sparkly gift of jewelry that is sure to put a smile on every woman's face, it's great to go all out this Valentine's Day in order to show your loved one's how much you care.
However, if you are like many across the country who might have been snuck up on by this romantic holiday, you may have still not yet found the perfect gift for your significant other. Have no fear! When it comes to finding a gift that keeps giving long after the chocolates have been eaten and the cupid's have flown away, we've got the perfect last-minute gift idea for you: LASIK Eye Surgery.
LASIK is one of the most popular and effective alternatives to corrective lenses like glasses and contacts. Plus, this procedure is safer than ever before and the visual recovery is quick and painless in most cases. In fact, in the last 25 years alone, more than 10 million people have been the recipient of this popular medical procedure and are never turning back to prescription lenses again.
Here are a few more reasons why you should help your significant other see how much you truly care this Valentine's Day through LASIK Eye Surgery:
It's Affordable And More Efficient Than Lenses
If your significant other is constantly complaining about the pain and hassle that lenses bring, they will be very pleased with the results that LASIK can bring. Over half of all patients can expect to achieve 20/20 vision or better. Patients will also find that their eyes feel fairly normal just one day after the procedure, and they will already have improved vision within one day.
OCLI also offers the most affordable LASIK Eye Surgery for their patients all throughout New Jersey and New York. We also offer many payment options, including cash, check or credit card. Plus, we also offer financing to help cover the cost of LASIK.
It Significantly Improves Quality Of Life
99% of patients reported that their quality of life was much better, better or as excepted following their LASIK procedure, according to a USAEyes CORE patient survey. Another 98% reported that their day vision was as expected, better or much better than their vision before procedure. Cary M. Silverman, M.D., uses the latest advances in LASIK surgery technology in order to provide patients with the highest level of vision correction possible.
If you really want to show your significant other how much you care this Valentine's Day, then do so with the gift of sight! LASIK Eye Surgery is not only affordable and effective, but will keep giving long after this romantic day has passed.
Image: Source