New Femtosecond technology allows cataract surgery to be more precise.
New technological advances come out all the time, especially in the medical field, that give us the opportunity to improve our actions and produce better outcomes for day-to-day procedures. Sometimes this is a small technological invention which makes minor procedures or in-patient appointments more streamlined, other times it is a major invention which changes the field all together.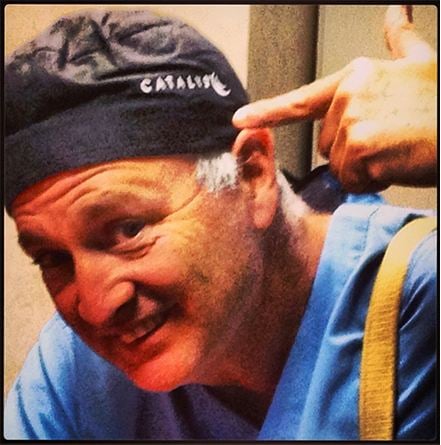 Earlier this year, Dr. Silverman and the OCLI team had the opportunity to be one of the first ophthalmologists in the country―and the very first in New Jersey!―to offer a new, state-of-the-art HD Cataract surgery which is sure to change the landscape of cataracts and cataract procedures for the better.
New Femtosecond lasers in cataract surgery offer ophthalmologists the opportunity to literally cut a new edge in terms of the accuracy of their incisions and the precision of their actions during cataract surgery.
While we have used handheld instruments in the past in order to treat this significant vision problem, this meant that the success of the procedure depended largely on the skills and expertise of the surgeon behind the instruments. This may lead to many opportunities of errors or inconsistencies. However, with Femtosecond technology, doctors now have the opportunity to eliminate inconsistencies of procedure and to overcome current limitations in both safety and efficacy.
To give you a better idea of how HD cataract surgery allows surgeons to be more precise throughout their procedures, here are just a few common inconsistencies of basic cataract surgery that the femtosecond laser will be able to fix:
Reduce Wound Leaks
With the three-plane incision of the femto laser, doctors are able to reduce wound leaks, which are the most common cause of endophthalmitis ―an inflammation of the internal coats of the eye. This vision problem is a common complication of all intraocular surgeries, particularly cataract surgery, with the possibility of loss of vision and the eye itself.
Reduce Inflamation
Because femtosecond lasers are able to tightly focus their energy on precise surgical incisions, doctors often see less capsular tear, less trauma to the endothelium and faster visual recovery. HD cataract surgery also allows surgeons with the ability to cut deeply on a single plane without collateral damage, reducing the amount of trauma caused by this procedure.  The laser is also able to soften hard cataracts, making it easier to remove them with less energy.  This leads to a much safer cataract procedure and quicker visual recovery.
Improve Lens Position
Femtosecond lasers provide a perfectly round, well-centered and precise diameter capsulotomy. This allows doctors to improve their lens position, avoiding the most common cause of refractive error and fully exploiting the potentials of multifocal IOLs.
Reduce Astigmatism
For the first time in a cataract surgery, ophthalmologists are now also able to reduce astigmatism through precise incisions. Whether it is on the table, or anytime up to one month post-op, the incision can be adjusted and opened, allowing doctors the ability to adjust and titrate the astigmatism. Correcting corneal astigmatism and preventing surgically induced astigmatism is what provides patients with a high quality of postoperative vision and patient satisfaction.
If you are interested in learning more about the amazing benefits of HD Cataract surgery or would like to see if you are a good candidate for this procedure, be sure to contact OCLI today.
Research: Source