Improving your eye health may be as simple as improving your lifestyle choices.
It is no secret that regular visits to your ophthalmologist are the best way to ensure proper eye health and  prevent the onset of possible vision diseases. However, what many people do not often realize is that the care and keeping of your eyes goes well outside the doctor's office.
Our health and lifestyle choices have a significant effect on every aspect of our bodies, including our vision. The choices you make about what kind of food you consume, how much you exercise and what kind of accessories you wear can, believe it or not, have a large influence on your vision.
For instance, whether or not you may develop cataracts or glaucoma in the future, if you may have to start wearing prescription reading glasses earlier than normal, and even how well you will continue to see into your senior years.
Therefore, it is important that we are informed about how our lifestyle and health choices can affect our vision and that we are educated about what we can do to maintain proper eye health as long as possible. To help get you started, here are five lifestyle choices that can help to improve the long-term health of your eyes:
1. Protect Against UV Rays
One of the simplest things that you can do to protect your vision day after day is to wear proper UV-protection sunglasses whenever you are outside. Wearing sunglasses regularly will not only help to reduce you exposure to damaging UV/UVA rays from the sun, but will also ensure that you do not damage or burn your cornea and conjunctiva.
2. Quit Smoking
Smoking is not only severely damaging to your heart and lungs, but also to your vision. Every single time you smoke a cigarette, it causes damage to the blood vessels in your eyes. This not only puts you on the pathway to early cataracts but also ARMD and other eye diseases.
3. Monitor Your Weight
Many people who are severely or morbidly overweight find that they are also at a significant risk for developing Type 2 Diabetes. This damaging disease can lead to diabetic retinopathy―damage to the retina caused by complications of diabetes―if not treated right away. Diabetic retinopathy is also the leading cause of blindness in those under the age of 65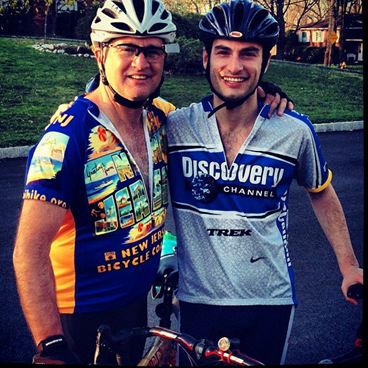 4. Exercise
In addition to keeping your weight under control, getting more exercise is also very helpful for lowering pressure in the eye if you have glaucoma. Research has also found that people who run or walk fast for about 2.5 miles per day have a 50% decreased risk of ARMD.
5. Consume Eye Healthy Foods
There are many foods that have been proven to have a significant effect on improving vision. For instance, Spinach is one rich source of antioxidants  that can help to cut the risk of eye disease. Other eye healthy foods include eggs, orange colored fruits, flax seeds and nuts.
Do you have any more suggestions for improving your eyesight through your daily health and lifestyle routine? Be sure to leave your thoughts and suggestions in the comments below!
Image: Source | Research: Source