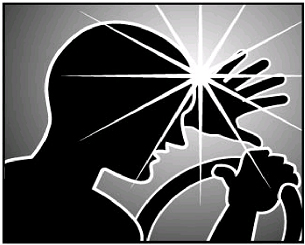 Jeff made the trip to OCLI last week to participate in this year's Vision Harvest free cataract surgery day, set for October 22.  Complaining of decreased vision and worried about the extreme glare on his eyes, Jeff saw a bright future with us as you should too.  Not only did this affect his ability to work as a carpenter, it affected his lifestyle as a whole.  Sadly, we see this vicious cycle again and again, constantly overturning stones in the lives of people who deserve better eye care.  Here is how the cycle usually goes:
Your eyesight starts to affect the quality of your work
You lose your position at work based off of horrible eyesight
Your insurance company leaves you in the dust because you have no employment
Without any job, you can't afford any cataract surgery
If you or a loved one have experienced this cycle, or see the prelude to it appearing in your life, come seek better eye care with us today!  Vision health is extremely important, and we want to provide the best eye care for you simply because being able to see is so important.  You can also check our blog for more eye care tips on multiple topics like how to improve your eyesight at night or the proper way to travel with eyeglasses and contacts.  Or maybe you want to know why you should get an eye exam each year, or you just want to research about the different parts of the eye and why they are colored in certain ways.  We have information and tips for everyone and we are excited to share them with you; all that you have to do is go browse around our website to grow your knowledge of the issues at hand.
Now let's be honest – there is a huge problem with our current health insurance system, and it's getting more and more troublesome.  Pegged to employment, our system awards only those who are able to provide proof of work, and while this might have worked at some point in time everyone deserves eye care nowadays.  Eye care should not be an award; it should be provided to everyone who needs it.  Currently, when one person loses their job, almost inevitably they will also lose their insurance.  Obviously, this system is broken and needs to be fixed.  Especially at such a critical time when insurance is most necessary, it's vital that we understand how to better take care of our eyes before it even gets to that point.
That's why we created Vision Harvest!  Every year, employers continue to reduce their workforces, and that results in new opportunities for us to provide help.  A 501c non-profit, Vision Harvest is our solution to provide eye care for everyone who clearly needs it.  Vision Harvest is a remarkable program that multiple ophthalmologists sign on to each year, in order to help those who do not have the finances for eye exams.  Each year, the participating ophthalmologists evaluate prospective patients and schedule a free procedure for them.  If the patients are eligible, then they will receive eye examinations, testing, medications and surgery provided to them, free of charge!  Created and organized by our own Cary M. Silverman M.D, you can be sure we will do our best to provide eye care for everyone.
Individuals with cataracts and poor eyesight don't have the time to waste to wait until the government steps in in four years, these patients require medical intervention sooner rather than later.  Our goal is to make sure that any vision impaired person without insurance or financial resources learns about this remarkable program. – Cary M. Silverman M.D
Each year, Vision Harvest cures several patient's eye problems, but we can't stop there.  With your help, we can make sure that Vision Harvest continues to help those truly in need for many more years to come. Please feel free to also browse around the Vision Harvest webpage to learn more about what we do and how you can help!
Also, make sure to schedule yearly visits so that your eyes are in tip top shape just in case of an emergency.  Nobody wants to be left in the dark, so take a cataract evaluation today!
A carpenter from South Hampton, New Jersey, Jeff made the trip over to EyeCare2020 for cataract surgery after losing his job and thus losing his insurance.  He hopes to be able o fix his cataracts and get back to work as soon as possible.