Answering some of the most popular questions about the LASIK process.
LASIK Eye Surgery is one of the most popular vision procedures currently available, with some estimates claiming that as many as 4 million LASIK surgeries are performed in the United States alone each year. And with any popular procedure or treatment comes a large number of questions about the results, the side effects, and even the procedure itself.
Therefore, in March 2012, we wrote an article answering some of our most frequently asked questions about the LASIK process, including what the surgery entails, who is the best possible candidate for this procedure, what people can expect following LASIK and whether not the LASIK procedure is particularly painful. The article is one of our most frequently read on our OCLI blog, and yet we still have questions asking us more and more about LASIK surgery.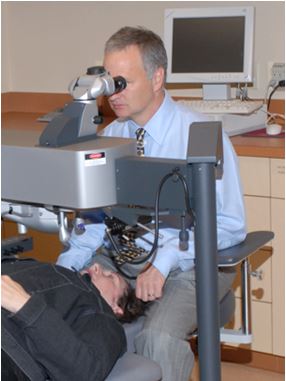 For that reason, today we are taking even MORE of your most frequently asked questions about LASIK surgery in hopes of helping you better understand this beneficial, popular procedure once and for all.
1. How Safe Is LASIK Surgery?
LASIK surgery is one of the safest vision procedures currently available, and the FDA has approved the procedure as both safe and effective. However, it is still important to note that LASIK is not the right choice for every single person with vision problems, and not everyone is the right candidate. Therefore, make sure you speak with your doctor about whether or not LASIK is right for you.
2. How Long Does LASIK Surgery Take?
Many people are often surprised by just how quick the LASIK surgery process is. The procedure itself typically takes less than 10 minutes per eye. However, given your prescription and the amount of correction that is needed, the laser itself will only take between 20 and 50 seconds to correct your vision. Add in speaking with your doctor, getting comfortable and set up after the procedure, and answering any questions you may have, and you will typically be out of the doctor's office in about an hour and a half on the day of your surgery.
3. What If I Blink Or Move My Eye During Surgery?
There are a number of different preventative measures in place to make sure that moving or blinking will not be an issue during surgery. For instance, your eye will often be held open with a lid speculum that supports your lid so you do not blink. Plus, the advanced technology of the laser's computer will also use a tracking system to monitor the position of your eye throughout surgery. The tracker then adjusts the laser treatment to follow the typical small movements that everyone's eyes make during the procedure, so do not worry about your eye moving around!
4. Will I Be Able To Drive Home After Surgery?
While some of your visual recovery will occur the same day you have surgery, we still insist that you have a separate driver to take you home once your LASIK procedure is over. Most of our patients will be able to begin driving themselves again the day after their procedure.
If you have any other questions about LASIK surgery, or are interested in learning more about whether or not this procedure is right for you, be sure to contact OCLI today.