Are you planning on watching the solar eclipse on the 21st? Hopefully you are, as it is truly a once in a lifetime opportunity. If you're lucky enough to be in the path of totality, you'll have a pretty amazing viewing. But even those farther away will want to stop what they're doing and check out the eclipse.
The important thing is to make sure that you're doing it safely. The eclipse is an awe-inspiring event, but it can be quite dangerous for your eyes if you don't view it safely. Viewing an eclipse without the proper glasses can result in retinal burns that are known as "eclipse blindness." So it's important that you get the right glasses before the eclipse this August.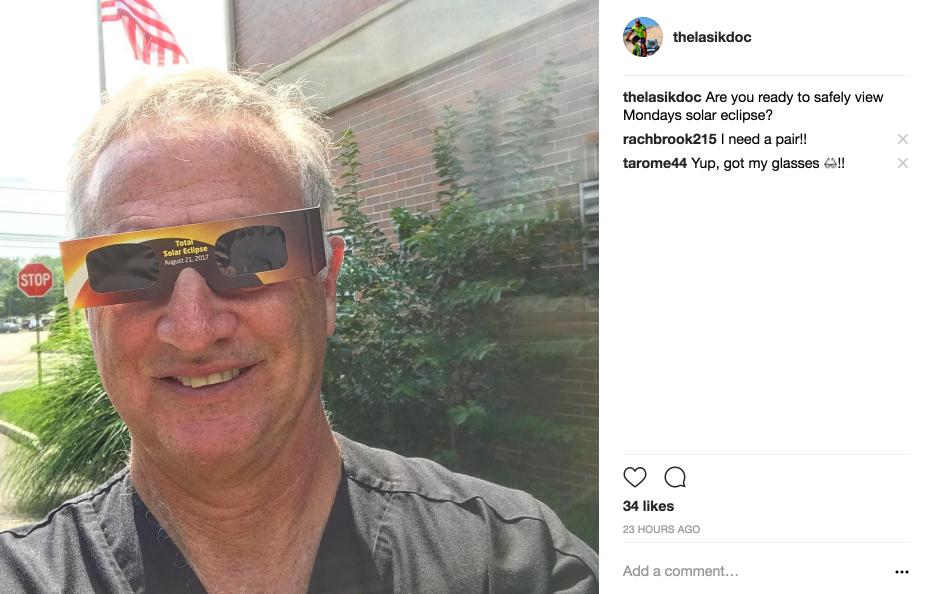 Where To Get Glasses
NASA has warned against getting glasses from Amazon, as the supplier may be unreliable in terms of quality. You can buy glasses for a dollar or two from Lowe's, Home Depot, Wal-Mart, Best Buy and other retailers. We go our's from B& H Photo.
Many libraries across the country will be giving them out before the eclipse. Use this locator to find a library near you that has them. Remember that the closer we get to the eclipse, the harder it may be to find them, so don't wait too long or you may be out of luck.
How To Know If They're Real
You certainly don't want to be looking at the sun with bootleg eclipse glasses. There are a few ways to know whether or not you should trust the glasses you have. First, look for the manufacturer's name on the glasses. Recommended manufacturers are Rainbow Optics, Baader Planetarium, American Paper Optics, Thousand Oaks Optical, and TSE-17.
Next, look for the ISO icon, which is the letters ISO superimposed over a globe. The ISO number must be 12312-2. If the glasses come from a reputable manufacturer and have the correct ISO reference number and icon, then they should be safe. Generally, glasses that you buy at the store should be safe, but it's always better to make sure.
When Can You Take Them Off
The only time that it's safe to take off your glasses is when the sun is completely behind the moon. You'll see the solar corona appear, and even bright stars and planets. The total eclipse will only last 2-3 minutes, so keep your glasses handy. If you begin to see beads of light on the trailing edge, then it's time to look away or put your glasses back on.
However, that's for those people who are lucky enough to be viewing a total solar eclipse. For most of us, the glasses will have to remain on the entire time. If you're unsure of whether or not you'll see a total solar eclipse, then type your zip code into this locator and it will tell you what type of eclipse you'll be seeing.
The eclipse is a natural phenomenon that you may never get another chance to see again, but you should certainly be mindful of the potential damage to your vision that it can cause. At OCLI, we're always ready to help keep our patients' eyes healthy, and even improve their vision! So call us today to learn more about LASIK eye surgery and its benefits.