Think back to a time, when you were a child and you couldn't wait until the end the day for a bedtime story read by mom or dad. Now imagine, what it's like for the child of one of our military personnel who has a parent (or two) who is away somewhere defending our country's freedom and isn't around for this nighttime ritual.
The United Through Reading® Military Program helps ease the stress of separation for military families by having deployed parents read children's books aloud via DVD for their child to watch at home. This powerful program is available to all deploying military units and at select USO locations. It provides parents a chance to make powerful and lasting connections with their children from afar.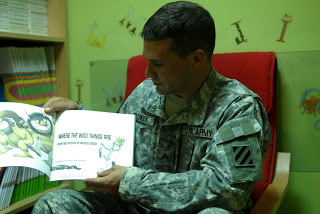 In honor of the brave men and women of our military, OCLI has decided to join forces with the United Through Reading Military Program and we're encouraging our patients to do the same.
From now until September 30th, simply log-on to their website and donate $50 dollars and you will receive a discount good for $500 off a bi-lateral LASIK procedure*. We'll even match your donation bringing the total to $100. Your gift to United Through Reading will help many children and families bond through the very special medium of reading aloud together.
For more information, contact us today at 973-560-1500 or visit us at:
OCLI
46 Eagle Rock Avenue
East Hanover, NJ 07936
www.ocli.net
*Not to be combined with any other coupon/discount. $250 per eye. Offer expires 9/30/11
Image: Source