Our friends and LASIK For The Gold participants fight for the gold at this year's Olympic games.
This week, the 2014 Winter Games kicked off in full force in Sochi, with around 31.7 million viewers tuning in to NBC'S Sochi Opening Ceremony on Friday evening. From here on out, notable athletes from all across the globe will spend the next few weeks fighting to become the best of the best in their sport, and will do all they can to bring both pride and a gold medal back to their country.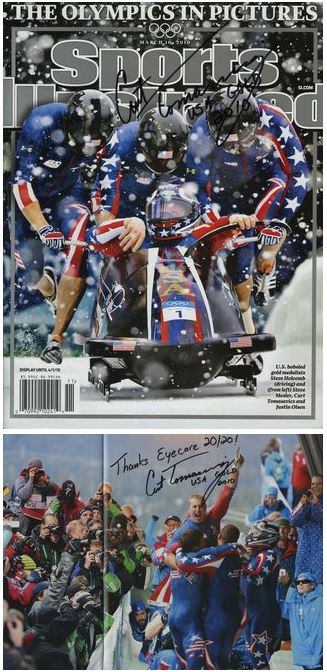 While we are rooting hard for each of the 230 members of the 2014 United States Olympic Team to succeed while they are in Sochi, there are two notable Olympians that we here at OCLI are especially excited to see fight for the gold this year―Curt Tomasevicz in the Men's Two-Man and Four-Man Bobsled event, and Elana Meyers in the Women's Bobsled Event.
Elana Meyers – Olympic Women's Bobsledder
If you have been following OCLI's blog for the last couple years, you may remember the name Elana Meyers. Elana won the Olympic Bronze Medal for the USA Bobsled team along with her bobsled partner Erin Pac in the 2010 Vancouver Olympic Winter Games. Shortly after returning home from Vancouver following the Olympics, Elana and her teammate stopped by the OCLI offices for a visit where they showed off their Bronze Medals, signed autographs and talked about their Olympic experiences.
Elana also joined Erin as she became a member of our LASIK For The Gold team. While Elana herself unfortunately was not a good candidate for LASIK surgery, Erin was able to join the ranks of the many Olympic athletes we have treated over the years in our LASIK For The Gold Program.
This year, Elana is back fighting for the gold in Sochi―this time as a pilot on the USA Women's Bobsled Team. Her first two heats in the Women's Bobsled events in this year's Olympics will take place on February 18th at 19:15 and 20:23 (Sochi time), and the final two will take place on February 19th at 20:15 and 20:23 (Sochi time). We can't wait to see Elana fight to bring a medal back to her country again this year!
Curt Tomasevicz – Olympic Men's Bobsledder
Another team member of the OCLI LASIK For The Gold team, Curt Tomasevicz is off to Sochi this year to bring back a second Gold Medal as part of the 2014 Men's Four-Man Bobsled team―what he states is one of his biggest ambitions.
Curt dropped Dr. Cary M. Silverman and the entire OCLI team a note in 2011, right after his Gold Medal win in Vancouver, telling us all about how LASIK improved his performance in the Olympics:
"Life is so much easier without the discomfort and annoyance of contacts and glasses. I love being able to train without vision impairment as a distraction. I can focus on simply improving my strength and speed to push the sled. This hassle-free training allowed me to reach my best at the 2010 Olympics and win the Gold medal. Thanks Dr. Silverman and staff for playing a key role in my success!"
This year, you can watch Curt compete along his United States teammates in the 2014 Men's Four-Man bobsled event. The first two heats will take place on February 22nd at 20:30 and 22:00 (Sochi time), and the second two heats will take place on February 23rd at 13:30 and 15:00 (Sochi time).
Be sure to tune in to watch both of our OCLI Olympic athletes fight to take home the Gold Medal for the United States at this year's 2014 Winter Olympic events!