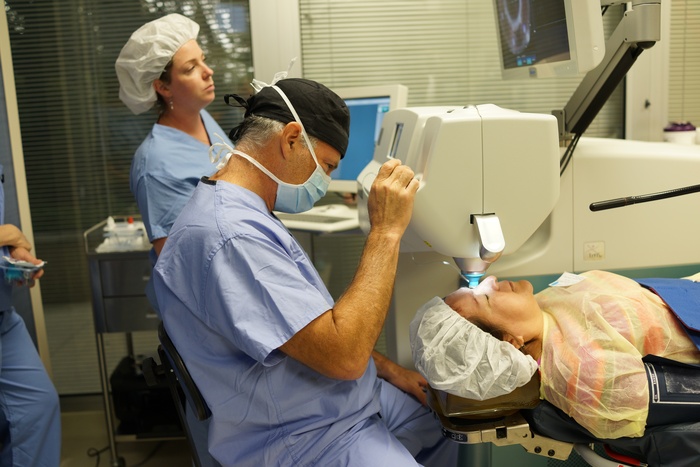 The last ten years have witnessed a revolution in cataract treatment. Laser eye procedures have made cataract surgery less invasive through eliminating the surgeon's hand-guided scalpel in favor of incredibly precise incisions made by laser. The results have transformed cataract eye surgery into one of the safest and most effective medical procedures performed today.
Dr. Cary M. Silverman and the OCLI team are the only ophthamologists in the New Jersey area to offer their patients access to two cutting edge femtosecond laser platforms to make vision restoration easier and better than ever before.
HD Cataract Surgery with Catalys
Every patient's eye is unique. The HD Catalys system offers superior results through its use of HD eye mapping software. The system allows surgeons to craft a treatment that is tailor-made to the unique features of each patient's eye.
State-of-the-art Femtosecond lasers allow the OCLI team an unparalleled level of precision and control of incisions. Because the size required for these incisions is much smaller than those needed for a traditional blade, there is less disruption to healthy surrounding tissues. This means less trauma, and a faster recovery time.
The system is able to soften dense cataract tissues before they are removed, allowing for a safer procedure with fewer side effects. The procedure is also able to correct corneal astigmatism, providing patients with improved postoperative vision levels.
The LenSx Laser System
This system employs a high-resolution video microscope that enables a surgeon to view real-time imaging, enhancing monitoring throughout the cataract procedure. The image-guided planning monitor delivers a crisp 3D view of the procedure. The LenSx system offers unrivalled control during surgical procedures, allowing surgeons to use a variety of fragmentation patterns to break up cataract tissues.
The greatest asset of the LenSx system is its software which automates and customizes much of the most difficult steps in the cataract procedure. This makes for a faster procedure, helping reduce inflammation and trauma to the eye.
OCLI: A Leader In Laser Cataract Removal
Dr. Silverman and the OCLI team are one of a handful of ophthalmologists world wide to offer treatment options on these two Femtosecond cataract laser systems to their patients. Most ophthalmologists don't even have access to one! OCLI offers cataract suffers in the New Jersey area the most comprehensive array of the very latest in laser eye procedures to fit all their patient's eye care needs.