Do you have the right pair of sunglasses to protect your eyes from the sun?
Now that spring has officially sprung (according to the calendar at least), it is almost time to begin packing away our thick winter wardrobes and break out the boxes of shorts, tank tops and flip flops for another delightful warm season spent soaking in the sun. Whether you are most looking forward to afternoons spent lounging by the pool, spending some much needed time tending the garden outside, or simply enjoying all of the delights that the sunshine has to bring, there is one important thing to remember about spending your time in the sun this spring season―wear protective sunglasses!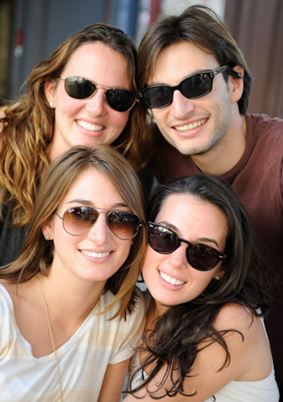 I'm sure, by now, you have heard all about the damaging effects that the suns UV rays can have on our delicate vision. However, sometimes a little reminder is needed just to reinforce how dangerous this enticing rays can be to the long-term effects and health of your eyes.
UV radiation consists of invisible rays that come from the sun, and there are three types of UV radiation: UVA, UVB and UVC. UVC rays do not pose any threat, as they are absorbed by the ozone layer. However, exposure to UVA and UVB rays can have adverse effects on your eyes and vision. Short- and long-term exposure to these dangerous rays can cause significant damage.
Scientific studies and research has shown that exposure to small amounts of UV radiation over a period of many years may increase the chance of developing a cataract, and may cause damage to the retina, the nerve-rich lining of the eye that is used for seeing. This damage to the retina is usually not reversible. Cumulative damage of repeated exposure may contribute to chronic eye disease, as well as increase the risk of developing skin cancer around the eyelids.
In order to help you keep your eyes safe and healthy this spring and summer season, we have put together some basic information about what to look for in a protective pair of sunglasses:
Plenty of Coverage
Today's most popular glasses are thin, small and barely cover the eyes. For maximum protection, buy eyeglass frames that are bit wider. These will protect your eyes. The most protective styles are wrap or shield style glasses.
 A Well-Known, Protective Brand
One thing you never want to cheap out on is the shades. Choose sunglasses that offer ultraviolet protection, especially if you have sensitive eyes or had recent corrective eye surgery. Also, be sure to have a back-up pair of sunglasses in your car or in your purse. It's very common to find yourself on a beach or remote location and your glasses crack, break or get lost.
Children Need Sunglasses Too
While many parents may understand the importance of wearing sunglasses, they often don't realize that this is something that is even more important for children. A recent study by the Children's Hospital of Los Angeles showed that children's eyes can be seriously damaged from sun exposure, just like their skin. In fact, the lens of a child allows 70% more UV rays to reach the retina than in an adult.  Therefore, it is more important than ever to protect your child's vision when outside.
Go Polarized
Polarized glasses are created to reduce glare by filtering out horizontal rays coming from road surfaces and bodies of water. Without getting real technical, polarized glasses reduce glare by allowing only vertical rays to "enter" through the lenses. The result, less glare. Your best bet is to get these types of sunglasses from your eye doctor vs. your local retailer. You just never know if those glasses are truly UV protected and/or polarized.
Summer can be an exciting time for the whole family to get outdoors and spend some quality time together. However, it is important to be aware of the vision risks that summer brings with it. Be sure to follow these important eye care tips in order to ensure that your family has a fun and safe sunshine season.
Image: Source