Our favorite Halloween costumes that show off corrective lenses.
Halloween is a favorite holiday for people all across the country, from little kids who get to run from house to house collecting candy, to adults who use Halloween parties as an excuse to express their inner kid and dress up in funny costumes. Whether you are in it for the thrill of the scare, the free candy, or simply the fun of dressing up as someone you are not, there is no shortage of tricks and treats when it comes to Halloween weekend.
However, now that All Hallows Eve is only a few days away, many people are scrambling to put together last minute costumes for parties and trick or treating. While this may seem like a relatively easy task for those with great vision, many people who wear glasses may find their choices are a little more slim when it comes to blending in your lenses with your costume.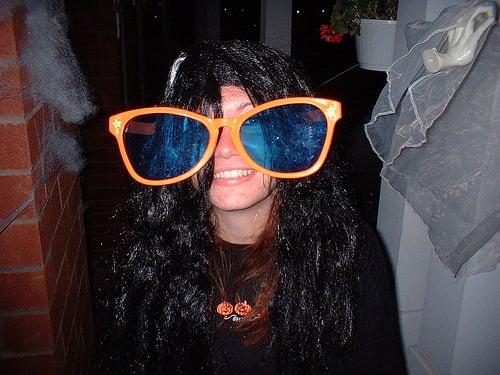 Luckily, with over 96 million people in the United States alone who wear prescription glasses, there is bound to be a few great Halloween costumes that embrace the lenses and still allow you to focus on putting together a realistic costume. The trick is to be creative and ensure that your glasses are not enough to put a crimp in your costume plans.
To help you find a costume that works for both your vision and your Halloween attire, we have put together three of our favorite four-eyed Halloween costumes that will be a scary sight for anyone who sees you:
Harry Potter
This popular wizard, with his signature round glasses and lightning scar, has captured the hearts of readers and movie-goers alike for over ten years. Because of this, it is easy to see why Harry Potter makes for a great Halloween costume year after year. All you need is some basic wizard robes, a powerful wand and a great pair of round glasses that enhance your magical abilities and bring this boy wizard to life for the night.
50's Soda Pop Girl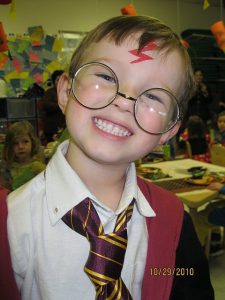 Whether you're looking to be fierce and sassy as a member of the Pink Ladies, or a classic 50's girl in a poodle skirt, there is one accessory that is absolutely essential to celebrate the decade of sock hops and the birth of rock and roll―cat eye glasses. These black-rimmed glasses, elegantly topped with rhinestones fastened in the front, were essential for any sock hop or school dance back in the day, and will convince anyone at your Halloween party that you really know how to jive.
Clark Kent
If you really want to impress the people that you will be trick or treating with, why not dress up as one of the most powerful super heroes of all time? That's right, even Superman needed glasses when he switched back to his alter ego, Clark Kent. All you need is a suit, some perfectly gelled back hair and a great pair of black-frame glasses. To top it all off, be sure to have your classic Superman t-shirt  underneath your coat so that you are ready to save the world at the drop of a hat.
If you wear prescription lenses, there is no reason that you need to sacrifice your vision in order to have a great Halloween costume. Be sure to use these ideas above to create a great costume that shows off your spooky vision and your costume creativity.
Image: Source