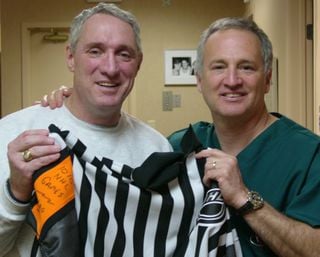 As I
mentioned
  yesterday,
Paul Stewart
was the first ref to take advantage of
OCLI
"LASIK the Refs!"
program. 
One
of the most successful and respected individuals in hockey, Paul
Stewart has done it all.  Player, Referee, and now Coach as he is the
ECAC Director of Officiating.  Paul Stewart may be the only person to
ever make it on the Ice in the NHL twice.
Paul had his surgery yesterday, and is already seeing 20/20!!  

Here Paul briefly discusses his LASIK experience at OCLI.