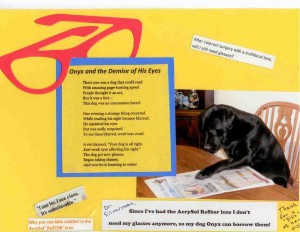 We are fortunate to get many letters of praise from happy patients following their LASIK or Refractive Lens Surgery. Some are nice enough to allow us to do a brief video testimonial. Well here's a first: Alice was so happy with the fact that she no longer wears bifocals that she made us a collage expressing her satisfaction.
I know its difficult to read the text in the image so here it is:
"After Cataract Surgery with a Multifocal Lens, will I still need reading glasses?"
"I see far, I see close, it's unbelievable."
"Why you can take comfort in the AcrySof ReStor Lens."
"Dr. Silverman, Since I've had the AcrySof ReStor Lens I don't need my glasses anymore, so my dog Onyx can borrow them!"
Onyx and the Demise of His Eyes
There once was a dog that could read
With amazing page-turning speed
People thought it an act,
But it was a fact-
This dog was an uncommon breed.
One evening a strange thing happened.
While reading his sight became blurred.
He squinted his eyes
But was sadly surprised
To see lines blurred, word into word.
A vet claimed, "Your dog is all right.
Just weak eyes affecting his sight."
The dog got new glasses,
Began taking classes,
And now he is learning to write!
How cute!, Thanks Alice!