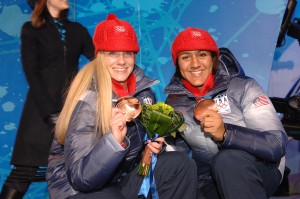 Meet United States Olympic Bobsledders Erin Pac and Elana Meyers at OCLI on Monday, April 5 from 12:00-2:00 p.m. Pac and Meyers maneuvered a 400 pound sled down the fastest bobsled run in the world and won Bronze last month in Vancouver. Reaching speeds in excess of 90 mph on a track that overturned countless sleds in both the men's and women's fields, Pac's steady hands and sharpened vision brought her and teammate Elena Meyers their first taste of Olympic hardware. Bobsled pilot Pac attributes part of her success to the LASIK surgery provided by Cary M. Silverman, M.D. Pac's teammate and brakeman Meyers will be undergoing her LASIK surgery on April 5. The athletes will be signing free autographs and taking pictures with fans. The public is welcome. Food and beverages will be provided for this celebratory party for Team OCLI.
"The track in Vancouver is ridiculously fast so of course clear vision was more important than ever," said Pac. "It was the thrill of a lifetime to stand on the Olympic podium and I'm so grateful to everyone at OCLI for the help in making my Olympic dream come true."
OCLI did its part to help Team USA in the 2010 Winter Games through the LASIK-for-the-Gold campaign. OCLI gave free LASIK surgery to USA athletes to assist their pursuit of gold with the addition of "new eyes". Team OCLI claimed seven medals in Vancouver, including: Chad Hedrick (speedskating – silver and bronze), Molly Engstrom (hockey – silver), Katherine Reutter (short track – silver and bronze) and Curt Tomasevicz (bobsled – gold).
"It was an amazing feeling as I sat up and for the first time since the third grade, I could read the clock on the other side of the room without the aid of my glasses or contacts," said Gold Medalist and member of the 4-man Olympic Bobsled Team, Curt Tomasevicz. "I'm thankful for the life-changing procedure performed by Dr. Silverman and his staff. I hated the discomfort of my glasses and I hated having to rely on my contacts, especially in a sport where perfect vision is vital."
The athletes traveled from all across the country to OCLI for treatment because of the practice's recognition as one of the premier LASIK facilities in the country. "The medals represent years of hard work, discipline and focus and I am thrilled beyond belief," said Speedskater Katherine Reutter. "It took a whole team of people to help me realize my dreams and Dr. Silverman and everyone at OCLI were a part of that team. At the Olympics, I no longer had to worry about contacts, solution or even glasses. I saw better than ever and I'm pretty excited to be looking clearly at a brand new pair of Olympic medals!"
With the Winter Olympics now over and Summer Olympics around the corner, Dr. Silverman is continually adding Olympians to his already long list of professional and collegiate athletes that have enjoyed this visual enhancement. The list of athletes now includes ten Olympians or Olympic hopefuls. "I'm just doing my part to help Team USA claim gold. I love the Olympics and it's been an honor helping these dedicated athletes be their best," said Silverman.
Olympic hopefuls who had LASIK surgery also include these four who hope to continue their success in the 2012 Summer Olympics in London. Arielle Martin of US BMX is the current UCI World Cup SX Champion. The 2008 USA Cycling BMX National Champion, Jill Kintner who went on to win the bronze medal in BMX racing in the sport's Olympic debut in 2008 in Beijing. US National Table Tennis player and Current US National Mixed Champion Samson Dubina, as well as Pole Vaulter Melinda Owens.