OCLI's own Gerard D'Aversa, MD has been honored by the International Association of Top Professionals (IAOTP) for 2017 as Top Ophthalmologist of the year. Read on to learn more about this prestigious honor.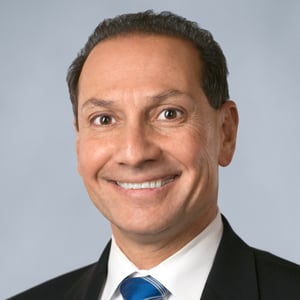 LONG ISLAND, NY – 1 Feb, 2017 – Dr. Gerard D'Aversa, Partner & Ophthalmologist for OCLI, has been selected as "Top Ophthalmologist of the Year" for 2017 by the International Association of Top Professionals (IAOTP)!
While inclusion with the International Association of Top Professionals is an honor in itself, only a few members in each discipline are chosen for this distinction. These special honorees are distinguished based on their professional accomplishments, academic achievements, leadership abilities, longevity in the field, other affiliations and contributions to their communities. All honorees are invited to attend the IAOTP's annual award gala at the end of this year for a night to honor their achievements. With having over 20 years of professional experience in cornea, cataract and refractive surgery, Dr. D'Aversa has certainly proved himself as an extraordinary professional, and expert in the field. Dr. D'Aversa is a dynamic, results-driven leader who has demonstrated success not only as a practicing Laser Cataract, Refractive (Lasik) Surgeon, and Corneal Specialist, but also as a successful partner at OCLI, which has grown to an eye care group consisting of over 30 eye doctors and surgeons, with over 11 locations throughout Long Island, NY.
Dr. D'Aversa specializes in performing topical, sutureless, clear corneal cataract surgery; Femtosecond laser-assisted cataract surgery; corneal transplants; and laser vision correction. He graduated summa cum laude and Phi Beta Kappa from the State University of New York at Albany with a Bachelor of Science degree in biology. Dr. D'Aversa graduated at the top of his class at Albert Einstein College of Medicine, where he was inducted into the Alpha Omega Alpha Honor Medical Society. He finished his residency in ophthalmology at Long Island Jewish Medical Center and completed a fellowship in cornea and external disease at the University Of Florida College Of Medicine in Gainesville.
Throughout his illustrious career, Dr. D'Aversa has been recognized worldwide for his outstanding leadership and commitment to the profession. He's been featured on television news reports, as well as being printed in the Daily News and Newsday. He has written numerous journal articles, authored a textbook chapter, and is a sough-after speaker and lecturer both locally and nationally. Dr. D'Aversa has received numerous humanitarian awards for his philanthropic work which included medical mission trips to Ghana, Africa and Grenada, West Indies. Dr. D'Aversa remains active in his community and is a member of numerous professional societies including the American Academy of Ophthalmology, American Society of Cataract and Refractive Surgeons and the New York Ophthalmological Society.
Stephanie Cirami, Vice President of IAOTP states, "Choosing Dr. D'Aversa for this honor was an easy decision for our panel to make. I myself being a patient, I got to see Dr. D'Aversa at work. He made me feel so comfortable for a procedure I was very nervous about for years. He gave me the gift of sight, performing LASIK surgery; I no longer need to wear contacts and glasses. I saw firsthand the outstanding professionalism, integrity of the practice, and was able to witness this doctor's positive energy, tremendous foresight, extensive knowledge, and brilliance for what he does. We are truly honored to have him as our Top Ophthalmologist of the Year and we know we will be seeing more great things from this man!"
Looking back, Dr. D'Aversa attributes his success to his countless hours of research, his passion and love for helping people and to his incredible staff. He says his work is never finished and the best has yet to come. For the future, he will continue to grow as a professional, continue to grow the practice, and continue to improve and change the lives of his patients any way that he can.
Click here for more information on Dr. D'Aversa.
Toll-Free Appointment Line 1.866.SEE.OCLI (1.866.733.6254), or visit: OCLI.net
About IAOTP
The International Association of Top Professionals (IAOTP) is an international boutique networking organization who handpicks the world's finest, most prestigious top professionals from different industries. These top professionals are given an opportunity to collaborate, share their ideas, be keynote speakers and to help influence others in their fields. This organization is not a membership that anyone can join. You have to be asked by the President or be nominated by a distinguished honorary member after a brief interview.
IAOTP's experts have given thousands of top prestigious professionals around the world, the recognition and credibility that they deserve and have helped in building their branding empires. IAOTP prides itself to be a one of a kind boutique networking organization that hand picks only the best of the best and creates a networking platform that connects and brings these top professionals to one place.