OCLI, a Spectrum Vision Partners ("SVP") managed practice, today announced the addition of Peter M. Brennen, MD, a specialist in medical and surgical diseases of the retina, vitreous, and macula. Beginning March 1, 2019, Dr. Brennen will practice from OCLI's Huntington Jericho Turnpike, Plainview, and Manhasset offices.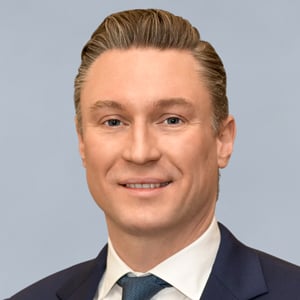 Dr. Brennen joins OCLI after serving as an attending physician for Retina Associates in Maryland. Previously, he held the position of clinical fellow with the Charles Retina Institute and the University of Tennessee College of Medicine.
Before coming to New York, Dr. Brennen earned his medical degree from the University of Pittsburgh School of Medicine, where he also completed his internship and residency. Throughout his distinguished career, he has authored numerous professional peer-reviewed journal articles, covering subjects ranging from prognostic factors in macular degeneration to advanced retinal imaging modalities.
"It is a wonderful opportunity to move to Long Island to serve alongside OCLI's world-renowned physicians, and to help our patients by expanding OCLI's retinal team," states Dr. Brennen.
OCLI is one of six managed practices to join Spectrum Vision Partners since November 2017, when Spectrum announced its strategic relationship with the growth-oriented, private equity firm Blue Sea Capital. Since then, 19 eye doctors and nine locations have been added across four affiliates.
SVP administratively supports the growth and management of some of the leading ophthalmology practices and eye ambulatory surgery centers in the New York, New Jersey, and Connecticut Tri-State area. In addition to OCLI, Spectrum managed practices include Island Eye Surgicenter, Ophthalmic Consultants of Connecticut ("OCC"), New Vision Cataract Center, Glaucoma Associates of Long Island, Precision Eye Care, and Huntington Eye Care.
In its first year of business, SVP has grown from 400 employees to a current total of more than 700. The organization recently relocated to new corporate offices to accommodate improved delivery of a complete range of business services to an expanding network of multi-specialty ophthalmologists.
Dr. Brennen is part of the company's aggressive growth plans. According to Spectrum CEO Tom Burke, "We are pleased to add yet another accomplished ophthalmologist to the OCLI practice hub. Dr. Brennen's experience in vitreoretinal surgery will further strengthen the breadth of OCLI's expertise, giving patients expanded eye care options.
"As our network continues to grow, we hope to attract more clinicians of Dr. Brennen's caliber—those who recognize OCLI's focus on excellence and its history of transparent business transactions, and who appreciate Spectrum's proven ability to help them achieve their long-term goals."
To schedule an appointment with Dr. Brennen, call 1.866.733.6254 (1.866 SEE-OCLI)