OCLI, a Spectrum Vision Partners (SVP) managed practice, has opened a new location in Patchogue today, directly across the street from Long Island Community Hospital. The address is 100 Hospital Road, Suite 216, Patchogue, NY 11772, phone number, (631) 828-3588. Chasidy Singleton, MD, has joined the practice and will have a full time presence in this location. In addition, Jack Oats, MD, and John Wittpenn, MD will be available for patients in this office as well as continuing to practice in OCLI's East Setauket and Port Jefferson locations.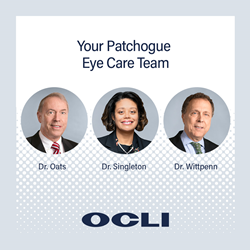 Patchogue is the 21st clinical location in New York and the 9th OCLI practice location added overall since November 2017, when Spectrum announced its strategic relationship with the growth-oriented, private equity firm Blue Sea Capital. Since then, 35 eye doctors and 14 Locations have been added across the four affiliates, expanding the leading network of nationally renowned, multi-specialty ophthalmologists and optometrists in the New York, New Jersey, Connecticut Tri-State region. The addition of this latest location will allow OCLI to strengthen its presence and expand its patient services further in the south eastern Suffolk, Long Island New York area.
"I am excited to be part of this expansion effort to provide the latest and best technology in eye care to a greater number of Patchogue area patients," notes Chasidy Singleton, MD.
John Wittpenn, MD, looks forward to being part of the OCLI Patchogue location. "As OCLI continues to strengthen our Suffolk county presence, we can offer more patients greater access to the exceptional eye care provided by OCLI renowned eye care providers."
Tom Burke, CEO of Specturm Vision Partners, is pleased to have the opportunity to support OCLI's new Patchogue location. "The addition of these highly respected doctors to the Patchogue community further demonstrates the OCLI commitment to extending a higher level of eye care throughout the Tri-State area and backing that with the superior customer service experience that has become the hallmark of SVP."
In its first year of business, SVP grew from 400 employees to a current total of nearly 800. The organization recently relocated to a new corporate service center in order to provide improved customer service. The company offers its network of multi-specialty ophthalmologists a complete range of business services.
For questions or further information regarding the OCLI team or Spectrum Vision Partners, please contact:
Tom Burke
Chief Executive Officer
tburke@spectrumvisionpartners.com
Justin Kuperberg
Chief Development Officer
jkuperberg@spectrumvisionpartners.com
About OCLI
Founded in 1997, OCLI (https://www.ocli.net/) is one of the leading ophthalmology practices in the United States. OCLI boasts 21 state-of-the-art medical facilities across Manhattan, Nassau, and Suffolk counties, housing the most advanced technology available, to offer patients a variety of ophthalmic services and treatments. OCLI is led by 54 highly skilled ophthalmologists in each major sub-specialty of eye care, providing comprehensive eye care services, including treatment for cataracts, corneal disease, refractive surgery, glaucoma, oculoplastics, retinal disease, and neuro-ophthalmology. OCLI also employs six Doctors of Optometry, three Physician Assistants, and one NYS Licensed Aesthetician.
About Spectrum Vision Partners
Spectrum Vision Partners (https://www.spectrumvisionpartners.com/) is a leading management services organization, serving the ophthalmology sector. Spectrum Vision Partners has nearly 800 employees, providing world-class practice management and administrative solutions to a network of nationally renowned, multi-specialty ophthalmologists in the New York, New Jersey, Connecticut Tri-State region. The Spectrum platform in New York and Connecticut consists of 26 clinic locations, two State Licensed Ambulatory Centers, with 71 surgeons, doctors, and other medical professionals. Spectrum Vision Partners provides a comprehensive set of business support functions, including billing and collections, credential services, marketing, physician recruitment, ASC development, financial and accounting services, benefits and payroll management, and information technology. The company's corporate service center is located at 825 East Gate Boulevard, Suite 111, Garden City, NY 11530.