OCLI, a Spectrum Vision Partners managed practice, has relocated its Valley Stream office to a new, larger space at 70 East Sunrise Highway, Suite 400, Valley Stream, NY 11581. The new location will enable the practice to better serve the needs of its patients.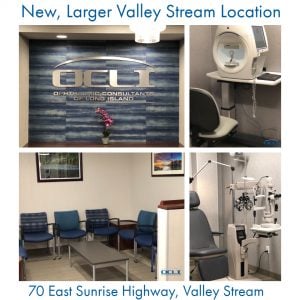 According to Gerard D'Aversa, MD, "After serving the Valley Stream community for over 15 years, we are now moving with the OCLI Valley Stream doctors, Swerdin, McKeague, Garibaldi, Galstian and D'Aversa, Jr., to a new, larger office space. This will make it easier to provide the exceptional care our patients have come to expect from us."
OCLI boasts some of the nation's most highly skilled and qualified specialists, considered to be Long Island's LASIK, glaucoma, cornea, oculoplastic and cataract surgery experts. Each physician at OCLI has extensive medical training. Many are recognized for innovative medical achievements, including performing the first refractive surgery in the world. A larger Valley Stream space will allow these highly trained physicians to provide expert eye care to more of the Valley Stream and surrounding communities.
Decades after its founding, OCLI's mission is continually being met with modern, state-of-the-art office locations across Nassau and Suffolk counties. The group includes over 40 eye care professionals, known for their clinical expertise, innovative care, and compassionate bedside manner.
To schedule an appointment, please call 1(866) SEE-OCLI (1.866.733.6254)