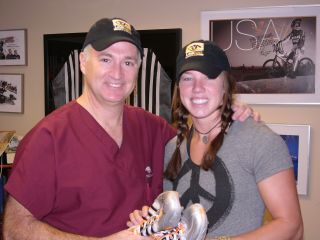 Melinda Owen presents me with a signed pair of track cleats she used in
last year's pole vault competition.  Check out our new LASIK for the Gold hats!
Melinda Owen did wonderfully following her LASIK surgery this week at OCLI.  She was kind enough to drop us an e-mail:
So I want you to know that how happy I am with my eye sight!!! I pole vaulted today and wore my goggles so I had zero problems at all and saw as crisp as can be! I have been bragging about how exciting getting LASIK has been to my family and told my mom and brother that I would want them to see Dr. Silverman if they were going to get it done. 

So when i was going through my bag Dr. Silverman gave me I found some cards for a free LASIK evaluation and so I have convinced my brother to try to get in and see him.  He was an athlete as well, he wrestled for University of Michigan and now coaches wrestling at Harvard. I think after hearing how happy I am about my results it has really made him realize how much he wants to do it too. I hope you know how much I appreciated everything you did for me while I was there this past weekend.  I had a great time getting to know you all. I wrote a little thing up on my blog about it even :)
She also posted on her blog:
While
in the training room, here at the Olympic Center, I was complaining
about my contacts when a friend Ariel Martin explained to me a program
she was apart of.  LASIK for the Gold, is a program Dr. Silverman
started to help aspiring olympians get the care they need but may not
be able to afford. Ariel is a BMX Biker who had just recently got LASIK
done. She said she would email the program director about me, but I
didn't think to much of it until I got a call from them only days later.
.
. .YAY!!! I couldn't believe it.  Only two short weeks after receiving
the call I was flown to East Hanover, New Jersey where I met with Dr.
Silverman and his team to get LASIK Eye Surgery done It was a huge
success!!! Not only am I able to see 20/15 now, but I was also given
the opportunity to meet some amazing people.

As
most anyone would be, I was very nervous to get the surgery done not to
mention the fact that I was to fly across the country and do it all by
my self. That is right, every girl wants her mom near by to take care
of her :-)  But from the moment I landed, Dr. Silverman's assistant Keri
made sure I was completely taken care of and extremely comfortable.  I
hope that they realize how appreciative I am for everything.  I suggest
you take a LASIK for the Gold to see the amazing things Dr. Silverman
has done.
We are so looking forward to the upcoming pole vault season and rooting for Melinda in her bid to make it to the 2012 Olympics in London.  In the following video, Melinda talks about her experience with the LASIK procedure at OCLI.