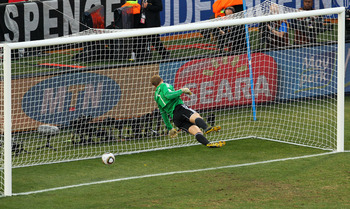 This year's World Cup has showcased some of the world's best Soccer players and teams.  Unfortunately, it has also been marred by some of the worst officiating in years.
Fans have been dismayed in seeing USA's Maurice Edu's goal dissallowed by a phanthom penalty, numerous questionable red cards, Brazil's Luis Fabiano's "hand ball" goal, offside goals by New Zealand's Shane Smeltz and Argentina's Carlos Tevez, and Frank Lambard of England's "missed goal."  All these bad calls, and we are only into the round of 16!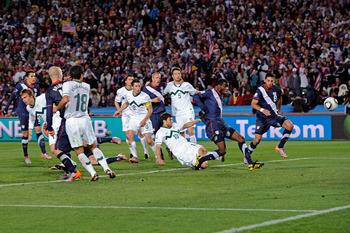 Much has been reported about the officiating inadequacies including:
Referees requiring security following bad calls
FIFA ignoring bad calls
The need to add security to FIFA officiating
As the controversies mount, I have decided to extend OCLI LASIK the Refs Program to all FIFA refs participating in this year's World Cup.  After the tournament is concluded, any of thes refs can hop on a plane, fly to New Jersey, and get your free LASIK surgery.  In this way, maybe we can do our small part in making sure that the game is decided on the pitch, and not by the zebras!
Here is a copy of our most recent press release on the subject:
For Immediate Release: June 21, 2010
Media Contact: Keri Muli – 973-560-1500, ext. 111;
LOCAL SURGEON OFFERS
FREE LASIK TO WORLD CUP SOCCER REFEREES
EAST HANOVER, NJ – As a
result of the blown call by a World Cup soccer official in the United States'
last match versus Slovenia, local ophthalmologist Dr. Cary Silverman is
offering free LASIK surgery to any World Cup or professional soccer referee.  As Medical Director of OCLI,
Cary M. Silverman, M.D., oversees one of the premier vision care facilities in
the tri-state area, and the first practice in New Jersey to offer treatment
using custom
wavefront LASIK with the ALLEGRETTO
WAVE® laser.
On Friday, June 18, referee Koman Coulibaly of Mali called a
much-debated, late penalty against the United States that nullified a potential
match-winning goal in Johannesburg.  The Americans, who ended up in a 2-2 tie with Slovenia, now
need a victory Wednesday against Algeria to move out of Group C and into the
Round of 16.
 "This is maddening," Silverman said, "These are the
greatest athletes on the biggest stage in the world and they deserve to have
the games officiated correctly.
Frankly, so many of these errors could be avoided if the officials had
better eyesight.  LASIK is the best
way to achieve that and I make an open offer to any World Cup official to
utilize our service, for the good of the sport."
Former NHL referee and current ECAC Director of Officiating
Paul Stewart was the first to take advantage of Silverman's "LASIK the Refs"
program.
Silverman recently provided free LASIK to eight members of
several United States Olympic teams, including winter medalists: Curt
Tomasevicz (bobsled – gold), Chad Hedrick (speedskating – silver and bronze),
Molly Engstrom (hockey – silver), Katherine Reutter (short track speed skating
– silver and bronze), and Erin Pac (bobsled – bronze).  For more information on Dr. Silverman's
Olympic initiative, go to: www.lasikforthegold.com.
LASIK uses a computer-controlled
laser to reshape the cornea and correct refractive errors such as nearsightedness,
farsightedness,
and astigmatism.
Dr. Silverman employs the latest advances in LASIK surgery to provide patients
with the highest level of vision correction possible. With the ALLEGRETTO WAVE® laser technology, he
is able to customize the LASIK procedure to the vision needs of each individual
patient.
To learn more about OCLI, visit: OCLI.net. For more information
on recent blown calls and the LASIK THE REFS program, go to: www.lasiktherefs.com. 
###