Why LASIK is a wonderful, life-changing gift for anyone on your list.
Now that we are nearly halfway through the month of December, it seems as if the holidays are approaching faster than ever. Stores are starting to roll out their biggest and best sales of the season, families all across the country are beginning to put up their holiday trees and lights, and the slow wave of anxiety is slowly starting to creep up on all of us who still have yet to complete our holiday shopping.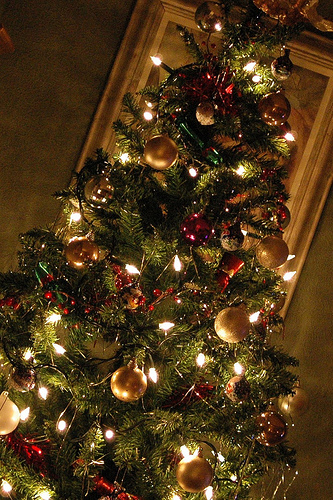 While the holidays are supposed to be all about enjoying our time with friends and family and celebrating the meaning of the season, we can't help but want to find that picture perfect gift we know will make our loved ones faces light up beside the holiday tree. Unfortunately, with less than two weeks left until Hanukkah, Christmas and Kwanzaa, it seems that time is running out to pick out that perfect present.
Luckily, we here at OCLI have got the perfect gift for the people that you care about this holiday season―the gift of sight. LASIK eye surgery has become one of the most popular, beneficial corrective vision procedures in the world and has helped over 10 million people ditch their lenses and improve their eyesight once and for all.
Plus, now that LASIK is more effective and affordable than ever, there has never been a better time to give your loved ones the gift of LASIK this holiday season. Here are just a few more reasons why this corrective procedure is the perfect gift for your friends and family:
Improves Quality Of Life
With the latest advances in the LASIK surgery procedure, including the use of the Allegretto Wave laser technology, Dr. Silverman is now able to customize the LASIK procedure to the vision needs of each individual patient, making the results more accurate and clear than ever before.
Also, according to a USAEyes CORE patient survey, over 99% of LASIK patients reported that their quality of life was as expected, better or much better after the procedure, and 98% reported that they would recommend the surgery to family and friends, and that their day vision was as expected, better or much better following LASIK surgery.
It's Affordable
We here at OCLI want to make sure that the gift of sight is more affordable and available than ever to patients all throughout the New Jersey and New York area. Therefore, not only do we offer the option of paying for your procedure by cash, check or credit card, but we also offer financing to help cover the cost of LASIK for yourself or your loved one. Many employers will also allow you to set aside pre-tax money for LASIK, which can help significantly with the cost of the procedure.
Cheaper and More Efficient Than Lenses
While LASIK can seem like steep cost, many people do not often account for just how expensive contact lenses and glasses can actually be over time. For instance, between the cost of lenses, contact solution and office visits, these costs can add up to as much as $500 per year. Add that up over 20 or 30 years, and soon enough your corrective lenses are costing you thousands of dollars.
LASIK eye surgery is a wonderful procedure for any person who is looking to permanently ditch their glasses or contact lenses and walk into the new year with better sight and a better life. Contact OCLI today for more information about how you can improve your vision and quality of life through the use of LASIK surgery.
Image: Source