On Halloween, an assortment of ballerinas, clowns, ghosts, and other goblins will have their eyes on just one thing, candy. Roaming dimly lit neighborhoods is part of the fun for children in pursuit of treats, but it can also be dangerous. "Trick-or-treaters and parents need to remember that on Halloween, to be safe, you must be seen, " said Cary M. Silverman, M.D., Medical Director of OCLI in East Hanover, New Jersey. "Studies have shown that a child's risk of injury as a result of being hit by a car doubles around Halloween.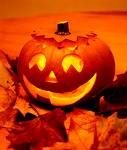 Incorporate these simple precautions into the evening's festivities to ensure Halloween safety:
w        Dress children in light-colored costumes or adhere reflective tape to the costume's fabric and accessories. Make sure children and adults are visible to passing cars.
w        Eliminate masks from among the costume's accessories. Masks can get in the way of clear vision and can increase the chances of tripping or running into objects.
w        Hypoallergenic make-up is a safer alternative. Take care in keeping make-up away from the eyes.
w        No trick-or-treater should go in search of treats alone. Children move through darkened neighborhoods more safely if accompanied by an adult.
w        Approach only doorsteps that have a porch light lit. Similarly, if you plan to pass out treats, be sure to turn on your light.
w        Pedestrians think they are more visible to drivers than they actually are, so remind trick-or-treaters to look both ways before crossing streets and to stay with the group.
w        Be aware there are risks associated with use of decorative contact lenses including conjunctivitis, swelling, allergic reactions and corneal abrasion due to poor lens fit. Other problems may include reduced vision, glare, and other general eye and vision impairments. If cosmetic contact lenses are part of your costume, make sure you obtain them from your eye care professional to ensure that the lenses fit your eyes properly.