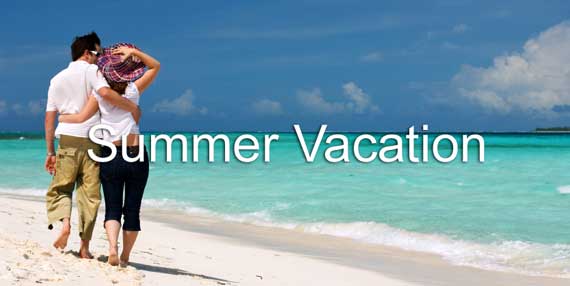 Are you ready to take that much needed summer vacation? Here are a few quick tips to help you arrive at your destination bright eyed and ready to go!
If you'll be traveling by air, cabin pressure and low humidity on airplanes can take its toll on most passengers, especially those who wear contact lenses. The result can be scratchy eyes, dried contact lenses and blurred vision. Be sure you take with you some artificial tears and use them liberally throughout the flight to help keep eyes lubricated.

Avoid alcohol consumption and caffeine as these can aggravate the effects of dry eyes.

Be sure you carry a back up pair of eyeglasses in case you need to remove your lenses or they are lost during your trip. Also bring a copy of your current eyeglass prescription in case you need to have a new pair made while away from home.

Pack plenty of solutions and cleaning products for contact lenses. Before you leave, check FAA regulations to confirm new restrictions on carry liquids in travel-on luggage.

Remember your sunglasses and make sure they have the proper UV protection if you will be spending prolonged time in the sun.
Bon Voyage and have a great trip! Don't forget your charger, an extra battery and extra memory card for your digital camera. Take lots of wonderful pictures and make some fantastic vacation memories wherever your travels may take you this summer.