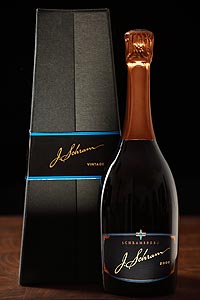 In my last blog today, I discussed eye injuries related to getting hit in the eye with a cork while opening champagne.  People are often confused about what champagne to buy.  My personal favorite is J. Schram from the California vineyard of Schramsberg
According to their web site:
"Wine grapes from the finest vineyards of Northern California are nurtured throughout the ripening process, before they are hand-picked. Complexity is gained through fermentation in both oak barrels and stainless steel tanks. Some small lots undergo malolactic fermentation to enrich aromas and infuse creaminess on the palate. The wine is then aged in our historical mountainside caves for over five years.
Dedicated to our founder of 1862, Jacob Schram, this special bottling has been a great success since its first
release in 1992. J. Schram reflects Schramsberg's continuing role as a pioneer in world class sparkling wines. It is our nominee when you want an American statement of international excellence. J. Schram is appealing as an aperitif or enjoyed with fresh shellfish, caviar, smoked salmon, mild cheeses, seafood brochettes and risotto with prosciutto."
Schramsberg has an excellent wine club with which I participate.
Below is a list I found in Wine Spectator which you all may find helpful:

Champagnes and Sparkling Wines for New Year's Eve
GLORIA FERRER Brut Carneros Royal Cuvée Vintage Reserve 2001 Score: 93 | $32
This sparkling wine is fresh and vibrant, yet with a core of rich, luscious fruit. Aromas of Asian pear, rose water and lemon curd lead to layered flavors of fresh ginger, pippin apple and cinnamon that finish on a showy note. Drink now through 2013. 6.500 cases made. —T.F.
DOMAINE CARNEROS Brut Carneros 2005 Score: 92 | $26
Beautifully focused and refined, with Gala apple and raspberry aromas and flavors that are crisp yet layered, with creamy lemon and lime notes and a finish that lingers with mineral and a hint of yeast. Drink now through 2012. 45,000 cases made. —T.F.
DUVAL-LEROY Brut Champagne NV Score: 91 | $38
This rich, sumptuous bubbly is marked by clover honey, candied citrus and hints of malt and mineral. It's beautifully integrated, with medium weight and a lingering, ginger-infused aftertaste. Drink now through 2010. 35,000 cases made. —B.S.
GOSSET Brut Champagne Grande Réserve NV Score: 91 | $69
Fresh and elegant, revealing a graphite and citrus flavor profile. Shows finesse and a mineral and chalk quality on the back end. Beautifully refined and persistent, with a mouthwatering finish. Drink now through 2012. 41,000 cases made. —B.S.
ARGYLE Brut Willamette Valley 2005 Score: 90 | $30
Light and creamy, with white pepper and oatmeal nuances to the citrus and pear flavors, lingering on the fine bead of a finish. Drink now. 7,172 cases made. —H.S.
DRAPPIER Brut Champagne Carte d'Or NV Score: 90 | $44
Fresh and pure, offering floral, yellow fruits and mineral flavors, this bubbly is graceful and beautifully integrated. The texture is firm and refined, with a subtle nutty note on the finish. Drink now. 75,000 cases made. —B.S.
LALLIER Brut Champagne Georges Lacombe Sélection NV Score: 89 | $39
Starts out rich and fruity, sporting apple and floral notes that pick up a lemon and mineral edge on the finish, turning more elegant as it does. Drink now. 20,000 cases made. —B.S.
MUMM NAPA Brut Napa Valley Prestige NV Score: 89 | $19
A lively, fruit-driven bubbly, with creamy and yeasty aromas that blend with baked pear aromas and flavors that are crisp and vibrant, finishing with notes of toast and spice. Drink now through 2012. Tasted twice, with consistent notes. 95,000 cases made. —T.F.
DOMAINE CHANDON Brut California Classic NV Score: 88 | $22
Offers lively aromas of apple blossom and citrus, with layered, crisp and creamy flavors of Asian pear, spice and freshly baked bread. Drink now. 240,000 cases made. —T.F.
SCHARFFENBERGER Brut Mendocino County NV Score: 88 | $20
Appealing for its sleek sense of focus and proportion. Nutty and spicy aromas blend with citrus and green apple, then open to zesty baked pear and lemon zest flavors. Drink now. 25,000 cases made. —T.F.
DOMAINE STE. MICHELLE Blanc de Blancs Columbia Valley NV Score: 87 | $12
Crisp and peppery, with a spicy note mingling with lime marmalade and toast flavors, lingering gently. Drink now. 32,640 cases made. —H.S.
PIPER SONOMA Brut Sonoma County Select Cuvée NV Score: 87 | $17
Crisp and creamy, with floral jasmine and citrus aromas and appealing green apple, anise and mineral flavors that linger toward the zesty finish. Drink now. 115,000 cases made. —T.F.
ROEDERER ESTATE Brut Anderson Valley NV Score: 87 | $23
Shows good intensity and balance, with baked apple, spice and appealing earthy herb aromas that lead to rich but crisp pear, lemon curd and toast flavors. Drink now through 2012. 80,000 cases made. —T.F.
Wishing everyone a healthy, happy, and prosperous New Year, and remember, be safe!