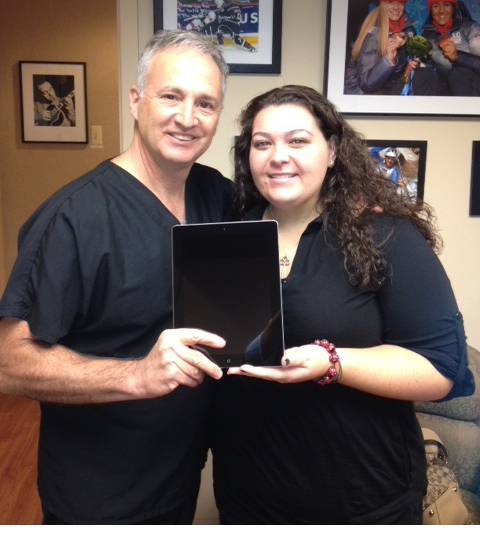 The winner of The most exciting sight after LASIK contest on our FaceBook Page, Anastasia Merken, stopped in this week to receive her iPad. Anastasia won with the following:
The very first thing I saw was a person- I saw Barbara (from OCLI) smiling at me and laughing with me as I struggled with my goggles! But the most exciting thing I saw after my LASIK was the grass outside the office. When I was a little girl, I always thought grass was a big green blob, because that was all I could see. When I got glasses, I was amazed that I could see every individual blade of grass and not just a blob. So after LASIK when I stepped outside and saw the grass… it brought back that feeling of pure joy that I experienced as a child; and realizing there was more to life than just blurry shapes. Knowing that I could see every tiny, beautiful detail around me and being free of my glasses/contacts was the best gift. Now I will never feel like I am missing out on the world around me, because I can see!
Upon receiving her new iPad, Anasthasia remarked, "I already thought I had won when I had LASIK!"  Now that's a winning quote if I ever heard one!  Congratulations Anasthasia…
Become a fan of OCLI and keep a look out for the announcement of our next FaceBook contest shortly.