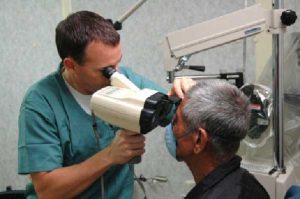 Your vision has to be one of the most important aspects of the human senses, if not the most important of all. As such when you are considering having LASIK eye surgery it is important that you pick a qualified, experienced and professional ophthalmologist to perform your LASIK procedure. By picking the best ophthalmologist you can find you will be reassured that it will be a success and that the procedure will be performed to the highest caliber.
While price is a factor, you should not consider cost as your main reason for selecting an eye surgeon, you should want the best possible surgeon regardless of the price. Someone who is experienced will be more valuable than a surgeon who offers it cheaply. A great place to start your search for a good eye surgeon is to ask people you know who have already had LASIK; they will be able to give you their experiences with the surgeons they used.  You also need to remember that everybody's vision is unique and the surgeon you will need may be different to the one your friend used. You will need to research the surgeons who will meet your needs and concerns when it comes to LASIK eye surgery.
A good ophthalmologist will have a good standing within his or her community and this is the first benchmark of a good eye surgeon. Below are some tips to help you find a good surgeon that is suitable for you:
Your ophthalmologist should be involved with the LASIK procedure from beginning to end. This will include the preliminary exam, to the procedure and finally any aftercare you may need.
Consider surgeons who are specialized in LASIK procedures. They will be well versed in their techniques.
Your surgeon should also be well versed in other refractive procedures such as refractive lens exchange and implantable colomer lenses, as these may be a better option for your specific requirements.  Steer away from one trick ponies!
An experienced LASIK surgeon is often considered to have done upwards of a 1000 procedures, although there is some debate to this exact number.
It's a good idea to avoid LASIK centers that have aggressive marketing tactics, as they are more involved in getting you in the door than your actual care. This will often be shown by a lack of good word of mouth referrals which should be a major concern.
Once again do not let price be your deciding factor, experience is of more value than getting a bargain.
Most importantly of all, have a chat with the surgeon you wish to go with and talk out any concerns and needs you may have. This is the best way to get a feel of the surgeon and the clinic you wish to attend for your LASIK eye surgery.