At OCLI, we love hearing back from our patients! For us, there's no better feeling than finding out how much the clear vision we helped them achieve has changed their lives.
And when we learn that one of our LASIK For The Gold athletes is performing at the highest level, we're as proud as any parent, which is exactly how we felt when we recently received a message from Kathy Darling!
A member of the USA Women's National Team Handball, Kathy came to us for LASIK eye surgery in 2011. Prior to her procedure, Kathy wore contacts when she played (which were the only times Kathy ever did because she found them to be too uncomfortable to wear regularly).
Since then, Kathy has gone on to achieve some pretty amazing things—like, most recently, playing her 100th international match and participating in the 2019 Pan American (Pan Am) Games!
After defeating Canada last September, Kathy and the US Women's National Team Handball earned a spot at the Pan Am Games in Lima, Peru. The team advanced to the semifinals, and ended up walking away with a fourth-place finish—an inspiring achievement for a hardworking team that has made so many strides since its last appearance at the tournament in 2011, in which it had placed last.
Final goodbye to #Lima2019Juegos like so much in sport it was rewarding and heartbreaking all at once. Inches short of the result I dreamed of, but unforgettable memories with incredible people #LetsAllPlay @TeamUSA #DanceWithSomebody @WooCommerce pic.twitter.com/46Pt33AWg5

— Kathy Darling (@Kathy_Darling) August 2, 2019
We know that greater things are yet to come for our LASIK For The Gold athlete Kathy and Team USA, and we'll definitely be here cheering them on!
What is LASIK For The Gold?
Ever since the Fall of 2009, when Cary M. Silverman, M.D, Medical Director of OCLI, treated 2008 Olympic Bronze Medalist BMX rider Jill Kintner, word of Dr. Silverman's services has spread and athletes from sports of all sorts, from across the country, have traveled to OCLI's state-of-the-art facilities for their own LASIK surgery.
As a result, Dr. Silverman, an avid sports fan, began LASIK For The Gold as a means of helping to support some of America's top athletes who participate in sports outside of those typically associated with professional ranks.
Along with Kathy and Jill, another athlete who achieved incredible success from being part of our LASIK For The Gold program is Curt Tomasevicz, who won the gold medal in the four-man bobsled at the 2010 Vancouver Olympics alongside Steven Holcomb, Justin Olsen, and Steve Mesler. In a thoughtful thank you note to us, Curt told us that he loved the freedom of being able to train without contacts and glasses and how that hassle-free training helped him achieve his best—and that gold medal!
Quick side note: Curt and his teammates are nominated for the Olympic Hall of Fame!
Join us in helping them get into the class of 2019 — Vote Here!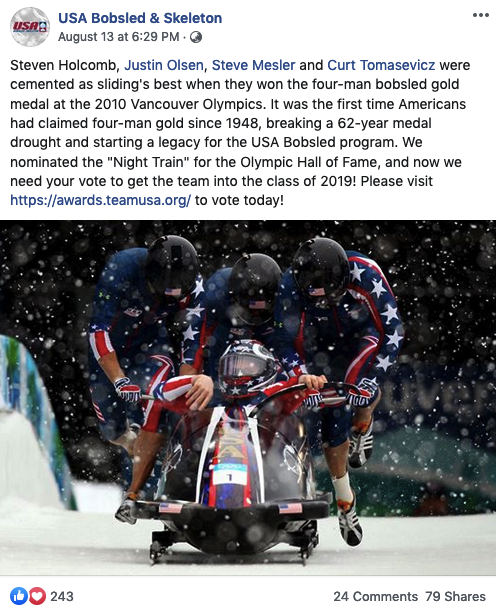 We have a great deal of respect and admiration for those who choose to dedicate themselves to their respective sports simply for the love of the game and the opportunity to go against some of the best in the world that their sport has to offer.
By offering these inspiring athletes the chance to compete with crystal clear vision, without having to rely on and maintain contacts to be able to see, we're honored to play a small part in helping them accomplish their dreams.
If you're an athlete and looking to up your game (like Kathy, Jill and Curt did!), OCLI can help you finally achieve game-changing clear vision, without the hassle of contacts that get in the way of your performance. Through our LASIK For The Gold program, we give athletes the opportunity to transition from contacts to restriction-free vision in just days.
To learn more about our LASIK For The Gold program, you can read more about it here, check out our list of athletes who have participated or contact our team for details on how to take part in the program.