What's a better gift than the gift of sight?
Father's Day is just a little over a week away and many people are still searching around for the perfect gift for dad. This year, why not get him something that will improve his vision and will be a gift to him, not just on Father's Day, but every day?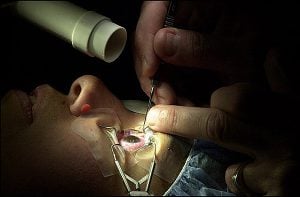 LASIK Eye Surgery is one of the most popular and efficient alternatives to corrective lenses. It's helped dads everywhere ditch their glasses or contacts and enjoy their favorite summer activities such as fishing and baseball games completely blur-free. So why should you give your dad the gift of LASIK this Father's Day?
It's More Affordable Than Ever
OCLI offers affordable LASIK Eye Surgery for patients throughout New Jersey, New York, Pennsylvania, and Connecticut. Not only do we offer the option of paying by cash, check or credit cards, but we also offer financing to help cover the cost of LASIK.
Several Businesses will also allow you to set aside pre-tax money for LASIK Eye Surgery, which helps significantly with the cost of the procedure. Check with your employer to see if this is an option for you.
Cheaper than Contacts and Lenses
When most people calculate the cost of LASIK surgery, they often don't account just how much money contact lenses and glasses actually cost them over time. If you combine the cost of lenses, contact solutions and office visits, these costs can add up to as much as $500 per year. Add that up over 20 or 30 years of wearing contacts and, soon enough, your corrective lenses are costing you thousands of dollars. Having LASIK Eye Surgery can actually save you money in the long run.
It's Been Proven To Improve Quality of Life
A USAEyes CORE patient survey asked LASIK Eye Surgery patients questions about the quality of their vision post-surgery and whether or not their results were "as expected," "better than expected," or "worse than expected":
99% reported that their quality of life was as expected, better or much better
98% reported their day vision was as expected, better or much better
98% would recommend surgery to family and friends
97% would have surgery again, knowing what they know now
96% wear corrective lenses as often as expected, less, or much less than expected
96% reported that their overall quality of vision was as expected, better or much better than expected
Opens Up The Door To More Activities
One of the main reason people choose to have LASIK Eye Surgery is so that they can participate in activities that glasses and contact lenses prevented them from previously doing. Summer is the most exciting time for post-LASIK patients as they can finally swim, do water activities, and play sports without having to worry about their lenses.
Give your dad the gift of LASIK this Father's Day; a gift that will keep giving long after the day is over.