Simple steps that will help you prepare for your upcoming surgery.
For anyone who has ever dealt with the frustrating, bothersome effects of poor vision―whether it be from a lifetime of vision problems or eye difficulties that come with age―the idea of corrective eye surgery can seem life-altering and almost too good to be true.
Luckily, with all of the advancements that have been made in the fields of laser surgery, eye care and ophthalmology, clear vision can now become a reality for people of all ages who suffer from vision problems, including nearsightedness, cataracts, farsightedness, astigmatism, etc. However, just like with any other kind of surgery, there are certain measures that must be taken in order to get the best results out of these corrective vision procedures.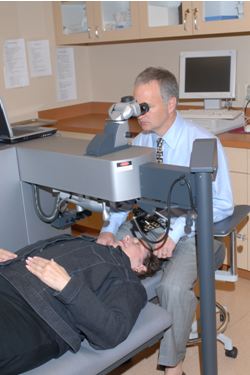 When you are considering undergoing a serious procedure, such as LASIK eye surgery or cataract surgery, it is natural to have a lot of questions and be nervous about the outcome of the procedure. However, these surgeries are state-of-the-art and yield a high number of positive results for patients of all ages and vision types.
If you are thinking of having your vision permanently corrected through LASIK eye surgery or cataract surgery, there are certain steps that you must take to both mentally and physically prepare for the operation. This will not only ensure that you feel more at ease about the procedure, but also that you have a favorable outcome.
Schedule A Consultation With Your Doctor
It is important that you undergo an extensive eye examination by your optometrist before settling on a surgery. This evaluation will not only help you to determine whether or not you are a good candidate for surgery, but it will also help your doctor decide which type of procedure is most suited to your needs.
After  your initial examination, your eye doctor will explain to you whether or not you are a good candidate for surgery, what the benefits and side effects may be of the proposed procedure, and what you should expect both before and after the surgery.
Provide An Up-To-Date Medical History
It is extremely important that you clearly explain to your optometrist the history of your past eye conditions or any problems that you may be experiencing at the time of the consultation. Many doctors may change their recommendations of surgery based on a history of diseases, medications, allergies or history of other procedures.
It is also important that you provide a copy of your complete medical history, including any surgeries you may have already undergone, whether you have been consulted for eye surgery before, and any diseases or vision problems that you have suffered from in the past.
Ask Questions
Once your doctor has looked through your medical history and has settled on a procedure that works best for you, you should bring up any and all questions that you may have about the surgery. This will not only give you a better understanding of what the surgery entails, but it will also help you to feel more relaxed and comfortable when you know the ins and outs of the medical procedure. Some common questions that you should ask include:
What is the surgery all about?
What is the technique for performing the surgery?
Why is this procedure recommended over all other surgeries?
How familiar is the surgeon with this procedure?
Is surgery really necessary at this time?
What will the recovery process be like?
It is natural to experience fear and nervousness prior to eye surgery. However, following these steps and adequately preparing yourself for your appointment will help you to feel much more at ease and confident in your choice.
If you are interested in finding out more about vision procedures such as LASIK eye surgery and cataract surgery, be sure to schedule your free vision consultation today at OCLI.